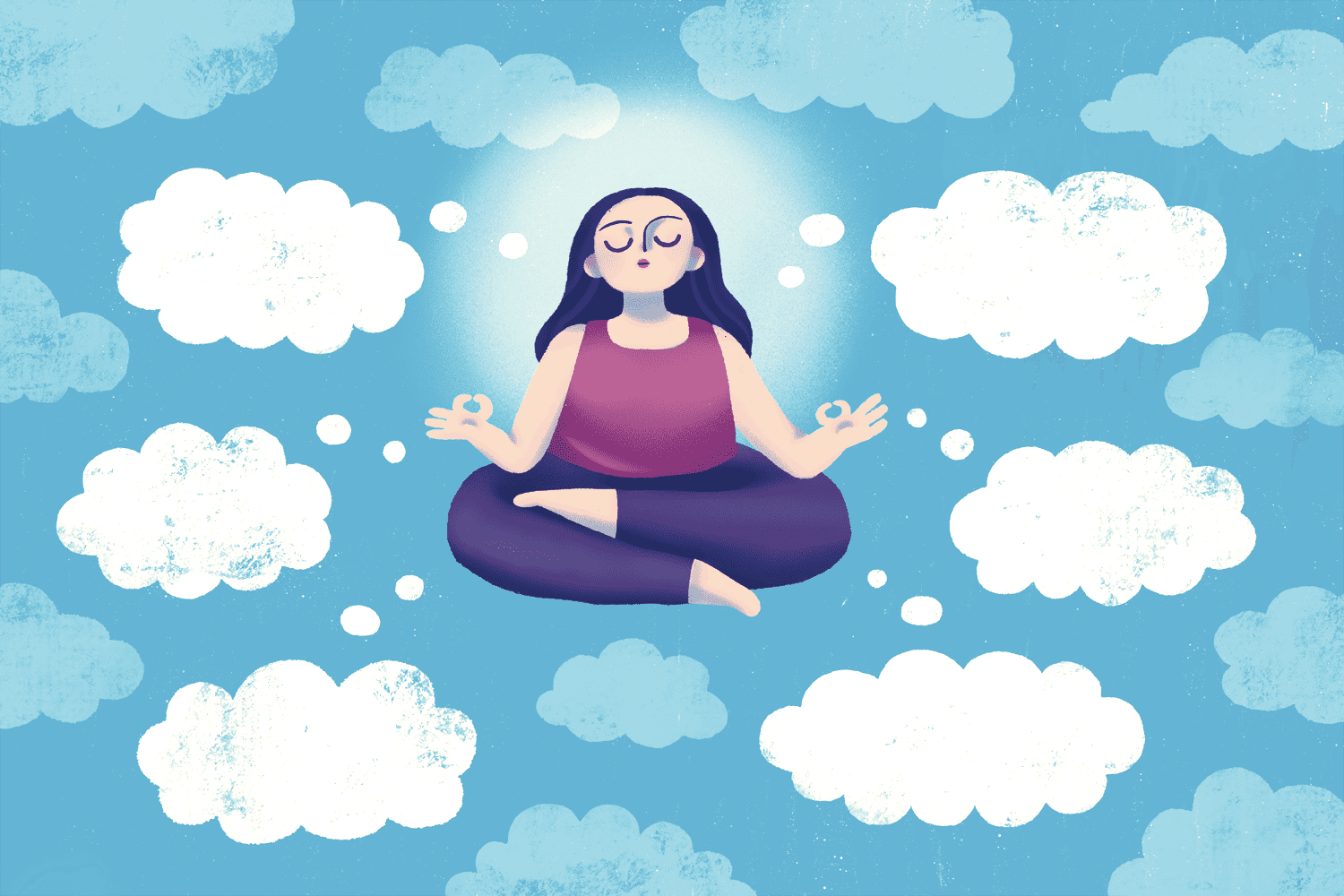 According to the Centers for Disease Control and Prevention, the usage of meditation surged more than thrice between 2012 and 2017, from 4.2 percent to 14.2 percent, making it the second most popular supplemental health approach behind yoga.Meditation's benefits are always being studied, measured, and documented. John Hopkins University researchers discovered that general meditation sessions from Trusted Source can assist to alleviate symptoms of sadness, anxiety, and pain caused by stress. So it's no surprise that subscriptions to meditation apps like Calm and Headspace, which provide a small escape from daily stress, are continuing to climb. It is advantageous to have a facilitator to guide them, especially as a novice. What exactly is guided meditation?
According to the National Institutes of Health, "meditation is a mind and body technique that has a long history of usage for increasing tranquilly and physical relaxation, establishing psychological balance, coping with sickness, and enhancing general health and well-being."
A voice leads you through a number of steps during a guided meditation. These may involve assuming a comfortable posture, breathing exercises, mental visualisation, and focusing your attention on your body's feelings.
These strategies aid in the development of mindfulness, or the ability to focus on the present moment while allowing thoughts to pass by without judgement.While meditation should not be used in place of medical care, research show that it can help.While you can practise unguided, silent meditation without any technology, many individuals find it beneficial.The Top 10 Online Meditation Guides for 2022 –
Insight Timer 
Insight Timer provides over 70,000 free guided meditations, daily live events, and relaxing sessions hosted by celebrities such as Gisele Bündchen and Russell Brand.
The app's Circles function is a terrific method to interact with others because it allows you to communicate and meditate in real time with groups of friends, coworkers, or strangers. You can also find curated tracks with themes like guilt release, compassion practice, and anxiety reduction.
UCLA Mindful 
UCLA Mindful Awareness Research Center researchers created the free UCLA Mindful app and website based on "radical accessibility of mindfulness activities."You can listen to or download simple meditations in English and Spanish, as well as special wellness meditations designed for persons with difficult health problems. They also conduct a weekly podcast, free online live events, and paid courses for anyone interested in learning more about mindfulness.
Mind Smiling
Smiling Mind creates evidence-based meditation and mindfulness exercises for both children and adults, intending to reduce stress and boost focus at work and in school.
Exercises in Mindfulness
This site offers a wide range of mindfulness exercises, including over 2,000 free meditations, worksheets, videos, and e-books. Short meditations to more in-depth online courses like the 28-day mindfulness challenge or 10-day Vipassana course are available.
Mindfulness Center at the University of California, San Diego
The University of California, San Diego offers free live events and guided meditation sessions that last from 20 minutes to an hour. If you are unable to join a live session via Zoom, you can listen to their enormous archive of recordings on Soundcloud. "Taking a Breath to Reduce Anxiety" to "Giving and Receiving Compassion" are among the topics covered.
Headspace
Headspace is well-known for its large collection of guided meditations and natural soundscapes, but its "Move Mode" sets it apart from the competition. Workouts and mental fitness activities inspired by professional athletes will get your blood pumping. Expert trainers, including Olympians Kim Glass and Leon Taylor, lead the sessions.
Chopra
The Chopra website and app, created by world-renowned mindfulness experts, offer self-paced sessions to meet any schedule. Members can access self-care products as well as approximately 500 meditations ranging in length from 5 to 30 minutes.
You may also take your meditation to the next level by enrolling in masterclasses tailored to your specific health goals, such as a mantra-based meditation course taught by Deepak Chopra.
Calm 
According to the Centers for Disease Control and PreventionTrusted Source, one-third of American adults do not get enough sleep. Calm is a popular choice among the sleep-deprived.
Drift off to sleep with a collection of sleep stories read by Idris Elba, Matthew McConaughey, and Priyanka Chopra. Aside from sleep, the app offers a lot of options to calm anxiety and give your body a rest.
Yogi Approved 
Yogi Approved may help you "find your om at home" with hundreds of HD yoga, fitness, and meditation videos spanning from beginner to intermediate levels if you're searching for a membership with diversity.
New programs are added every week, and you may access them via the website, or the app, or by downloading and watching them offline.
Sattva
The concepts of Vedic meditation are based on historic religious scriptures that span back thousands of years, and the authors of Sattva took inspiration for their library from these ancient origins. Members can access a vast library of guided meditations, ancient chants, mudras, and mantras taught by Sanskrit professors.