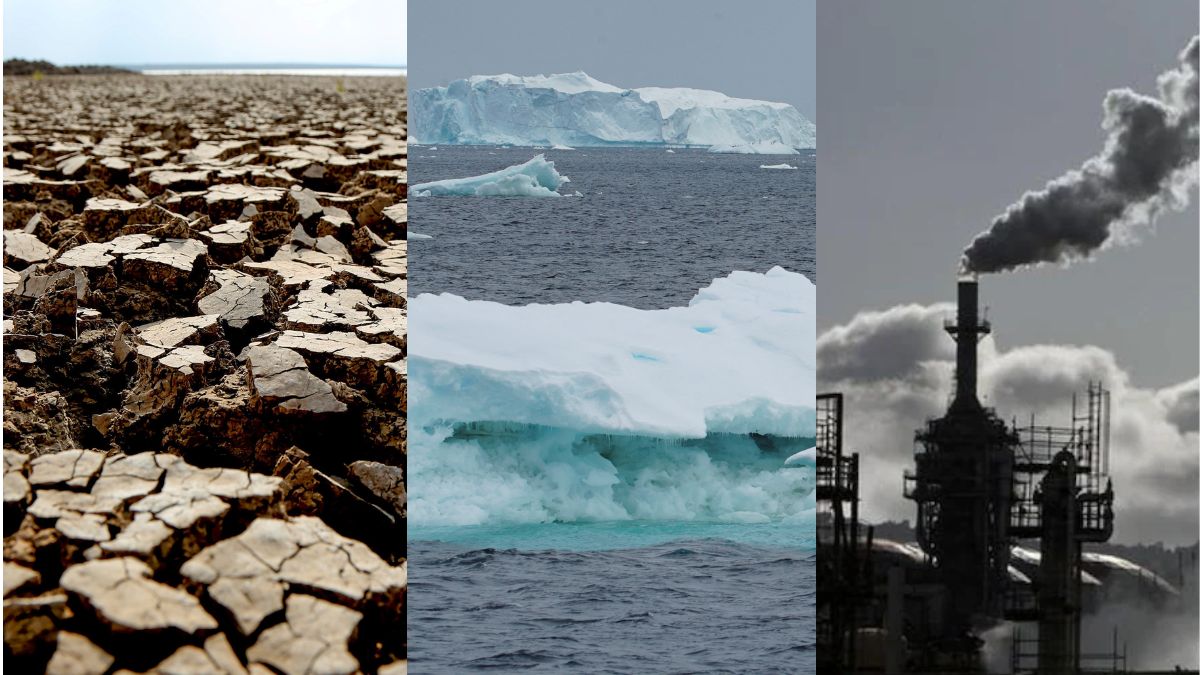 World leaders and climate scientists are convening in Egypt for crucial United Nations climate change discussions. The summit, known as COP27, will strive to put the world on a path to net-zero emissions and limit global warming well below 2°C this century. To avert the most devastating effects of climate change, the world must swiftly decarbonize. World leaders are aware of this. However, that understanding must be translated into actual pledges and strategies as soon as possible. If mankind continues on its current path, we will leave a hotter, deadlier world for today's children and future generations. The success of COP27 is critical to the survival of the planet. As a climate scientist, one believes world leaders should keep these three points in mind as they prepare for the meeting.
Our world is undoubtedly in crisis.
So far, the Earth has warmed little more than 1°C relative to pre-industrial levels, indicating that we have already harmed the climate system. Our greenhouse gas emissions have already caused sea levels to rise, sea ice to melt, and the ocean to acidify. Extreme events in recent years, particularly heatwaves, bear the imprints of climate change. The extreme heat in Western North America in 2021 caused catastrophic wildfires and stressed infrastructure. In addition, temperatures in the United Kingdom reached a lethal 40°C for the first time on record earlier this year.
The ocean has also been subjected to a series of marine heatwaves, which have bleached coral reefs and diminished the diversity of organisms that live there. Heatwaves will worsen as time passes. Worryingly, we risk pushing the climate into a perilous new regime with much worse repercussions.According to September's research, we are on the verge of five key climatic "tipping points," including the collapse of Greenland's ice sheet. Passing these points will lock the Earth into continued climatic devastation, even if all greenhouse gas emissions are stopped. Human health is also at stake. According to a study published last month, the climate crisis is weakening public health by increasing the spread of infectious diseases, air pollution, and food shortages. Heat-related deaths in babies under a year old and individuals over 65 increased by 68% between 2017 and 2021, compared to 2000-2004. Future generations cannot afford our inaction on reducing emissions.
Emissions reduction is moving too slowly.
Some countries, particularly in Europe, are lowering greenhouse gas emissions by shifting to renewable energy. However, it is not happening quickly enough on a worldwide scale. According to a UN analysis released this week, even if governments meet their 2030 climate action goals, the Earth will still warm by nearly 2.5°C this century, exceeding the Paris Agreement goal of keeping global warming well below 2°C. Such warming would be disastrous, particularly in poorer countries that have contributed little to global emissions. For decades, the world has discussed lowering carbon dioxide emissions. However, annual global emissions have increased by more than 50% in my lifetime and since the first COP in 1992. The UN warns that there is still "no credible pathway" to peace. The amount of CO2 in our atmosphere will climb until we reach near-zero emissions, and the planet will warm. We are currently warming the world by around 0.2°C every decade.
The stalling has to end.
With the globe experiencing so many obstacles, including Russia's invasion of Ukraine and the cost of living issue, it may be tempting to dismiss climate change as a problem that can wait. This would be a bad idea. Climate change is only going to grow worse. Every year that we wait makes it far more difficult to avoid the most dangerous climate scenarios from becoming a reality. Only a global effort will prevent the destruction of our most vulnerable ecosystems, such as coral reefs. We should do everything possible to prevent this by shifting away from fossil fuels. Any additional fossil fuel development exacerbates the problem and will cost humanity and the environment significantly more in the long run. Nonetheless, the International Energy Agency forecasted this week that net revenue for oil and gas producers will treble to "an extraordinary US$4 trillion" in 2022, a $2 trillion bonanza. We can't have more "blah, blah, blah" from world leaders at COP27, as climate campaigner Greta Thunberg put it; we need tangible action to reduce greenhouse gas emissions.
What happens next?
COP27 must result in a speedy transition away from fossil fuels, including a moratorium on new fossil fuel developments, as well as increased help for nations struggling with the most severe climate change impacts. We must be on a viable path to achieve global net-zero emissions in the coming decades. Because of the lack of progress at previous global climate negotiations, I am skeptical that COP27 will achieve what is required. But I am hopeful that world leaders would prove me wrong and not let their countries down.