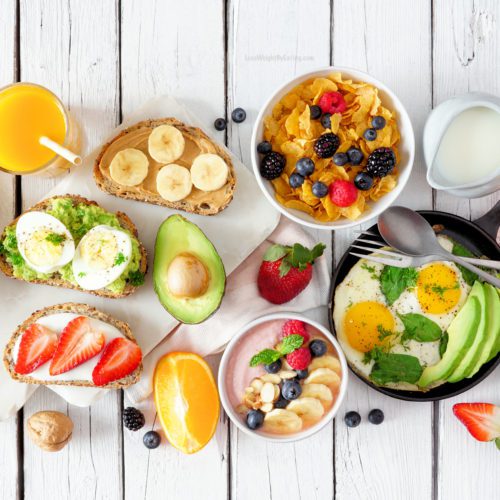 Bright Side Up
This is the quickest egg recipe, faster than boiling eggs, scrambled eggs, or even an omelette. All you need to do is melt some butter in a skillet. In the center of the pan, crack an egg or two. Toast your bread in a toaster while the eggs cook, which should take approximately 2 minutes. When the sides of the eggs begin to brown, place them on your bread toast and enjoy this sunny morning.
1. Purchase some fresh eggs. The fresher the eggs, the better the odds of the white and yolk remaining intact.
2. Grease the skillet well with a teaspoon of unsalted butter. Adding enough fat allows the whites to cook before the yolk hardens.
3. Preheat a skillet on low heat for optimal results. Cook the egg for 30 seconds on medium heat, then lower to low heat for another minute. This will help prevent the yolk from overcooking.
4. You can also tilt the pan slightly and ladle some of the excess butter over the egg whites to ensure equal cooking. When the egg whites become solid, it indicates that they have been thoroughly cooked Your sunny side up is now ready to serve.
5. Cover the skillet with a cover for a minute to allow the egg to cook. This keeps the yolk from leaking or being overdone.
Upma de Vermicelli
We've all heard that vermicelli cooks quickly. So, give your favorite south Indian upma a new twist by using rice vermicelli in place of the typical chana dal, curry leaves, coconut, and spices.
1.Prepare some vermicelli upma.
2. Bring water, salt, and oil to a boil, then add rice vermicelli (until fully immersed)
2. Cook over high heat. Cook until your sevaiyan or vermicelli is tender.
3. Remove any excess water. And sift the vermicelli through a mesh sieve.
4. Pour ordinary or cold water over sevaiyan to bring it down to room temperature.
5. Heat the oil in a pan.
6. Dry roast the chana dal for 30 seconds.
7. Stir in the urad dal and mustard seeds. . Cook until the mustard seeds begin to sputter.
Add dried red chilies, a pinch of hing, curry leaves, and finely chopped green chilies and onions. Combine everything.
9. Season with salt and heat until the onions are golden brown.
10. Finally, gently fold in the sevaiyan. Add a pinch of sugar, then some lime juice. Combine everything thoroughly. Allow it to cook for a minute.
11. Stir in the grated fresh coconut and finely chopped coriander. Garnish with fresh chopped chilies.
A Mug of Omelette
If you prefer your eggs in the form of an omelette, try this quick and easy recipe.
free 1 egg
2 beaten egg whites
2 tbsp cheddar cheese,
shredded 1 tbsp green bell pepper,
chopped salt and freshly ground black pepper (to taste)
ham or bacon, chopped (optional)
Spray cooking oil
Making an Omelette in a Mug
In a microwave-safe cup sprayed with nonstick spray, combine the egg, egg whites, cheddar cheese, bell pepper, salt, and ground pepper.
Microwave on high for 1 minute, stirring halfway through.
Return to the microwave for 1 to 1 1/2 minutes longer, or until the eggs are completely set. (Please keep in mind that microwave times vary.)
Top with cheddar cheese and crispy bacon, if desired, and serve!
Avocado Toast
One of the most simple 10-minute healthy breakfast dishes available. The avocado toast craze on Instagram and social media may have died down for the time being, but that doesn't change the fact that it is the simplest thing you can make in the morning on days when you don't have much time. This is a vegan recipe, however, if you are not vegan, you may add scrambled eggs to it.
Ingredients
4 slices whole wheat bread
1 avocado, pitted and half
2 tbsp fresh parsley, chopped
12 tsp extra-virgin olive oil
12 lemon juice
12 teaspoons of salt
12 teaspoons black pepper, ground
12 tsp onion powder
12 tsp garlic powder
Directions
Toast bread in a toaster oven or toaster.
Place the avocado in a bowl. Combine the parsley, and olive oil, and Mash the potatoes, lemon juice, salt, pepper, onion powder, and garlic powder with a potato masher. Fill each piece of toast with the avocado mixture.
Idli Ragi Rava
South Indian Ragi Idli cooked with finger millet flour, semolina, and yogurt is soft, healthful, fast, and delicious. A fantastic Indian breakfast for weight loss.
INGREDIENTS
12 cups Ragi/Finger Millet Flour 12 cups Semolina/Sooji
12 cups yogurt 14 teaspoons baking soda
14 – 12 cup water or salt to taste
INSTRUCTIONS
In a mixing basin, combine the ragi flour, semolina, and salt. Mix until everything is well blended.
Mix the yogurt with the flour mixture.
Make a batter by gradually adding water.
Allow the batter to rest for 15 to 30 minutes.
Once the batter is mixed, add water as needed. The batter consistency should be similar to that of idli batter.
Finally, stir in the baking soda until fully blended.
Fill immediately the oiled idli plates halfway with the prepared batter and steam cook for 8-10 minutes on high heat.