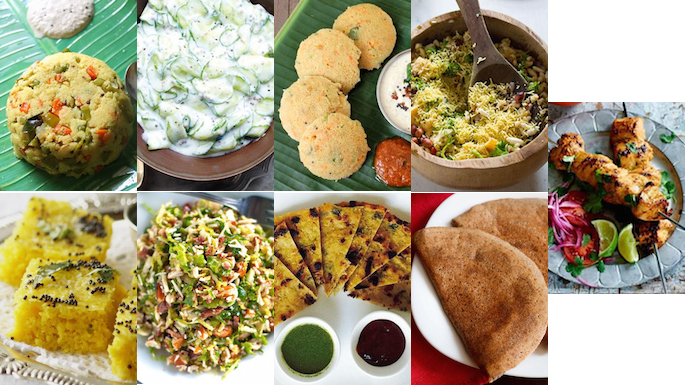 If you need to make sure you stay within your calorie limit, then this article will help! Eating foods rich in fiber, protein, and healthy fats is essential for healthy weight loss. Let's take a quick look at some low-calorie Indian foods
Low-calorie foods
Moong Dal Cheela
It's a super quick and easy recipe to make. Plus, it's a healthy meal that will keep you full for longer. Plus you can add some delicious spices to give your cheela a kick!
Nutritional value:- 1 Moong dal cheela contains only 128 cal.
Saabudana Khichdi
People usually make saabudana khichdi during the fasting period, but luckily for you, it can be a goofy low calorie dish. Plus, it's an easy-to-make, hassle-free meal full of fiber, protein, and healthy fats. It is commonly made from soaked tapioca pearls and delicious spices are added to it.
Nutrition facts:- 1 cup (184 g) of saabudana khichdi has 262 calories
Cucumber Raita
Raita is extremely refreshing and tasty. However, it's also a perfect choice on our list of low-calorie Indian snacks. Cucumber contains a lot of water and cottage cheese is enriched with healthy bacterial growth that improves gut health.
Nutritional value: – One serving of cucumber raita contains only 40 calories!
Palak Khichdi
Palak khichdi is a fantastic dish if you are trying to be healthy. It is enriched with healthy fiber, vitamin K, folic acid and healthy fats. That's why it's a must in your low-calorie diet. Get all the essential nutrients and stay healthy with palak khichdi.
Nutritional Information:- One serving of palak khichdi has 212 calories
Oats Idli
This is a special healthy food straight from South India. Idli is one of the most popular low-calorie South Indian breakfast dishes. It is full of vital protein and fiber that will keep you full for longer.
Nutritional Information – One oat idli has 30 calories
Bhel
Bhel is yummy and brings out its spicy goodness. Although it is a type of chaat, it can be extremely healthy. It is made from healthy vegetables like onions, tomatoes and healthy spices. Make sure you have some bhel if you're feeling extra adventurous!
Nutritional Information – One serving of bhel puri has only 289 calories
Dhokla
Dhoka is a super popular Gujarati delicacy. It's tangy yet super sweet and fluffy. This delicious cake is made with besan, yogurt, lime juice, semolina. Even better, it's low in oil. It's the perfect low-calorie snack.
Nutritional Information – One dhokla contains only 152 calories
Upma
Another low-calorie South Indian food makes it to the list of healthy low-calorie foods. It is a healthy South Indian delight that is usually made with a variety of vegetables, roasted nuts and spices. Plus, you can make it from oats.
Nutritional Information – One serving of upma has 192 calories
Tandoori Gobhi
If one is serious about counting calories, one might want to avoid tandoori. But don't worry, it's a great way to avoid excess calories. A delicious tandoori gobhi could be the perfect low-fat Indian meal. In addition, cauliflower is enriched with a lot of fiber and protein.
Nutritional Information – One serving of tandoori gobhi has only 120 calories.
Ragi Dosa
Ragi is a nutrient-rich grain that has many health benefits. This dosa can be incredibly healthy and delivers an explosion of flavors. Furthermore, this delicious dish is made from rice flour, ragi, healthy yogurt. So it's super healthy.
Nutritional Information – One serving of ragi has only 132 calories
Sprout salad
Salad is incredibly healthy. Sprout salad is a perfect way to maintain a healthy weight in your diet. It is a mixture of healthy moong, onion, chili, potato, cucumber, carrot. These vegetables are sure to give you a healthy dose of fiber, carbohydrates and protein.
Nutritional Information – There are 62 calories in one serving of Mixed Sprouts Salad
Masala oats
How can we forget oats on our list of healthy foods for weight loss? Masala Oats is a simple and highly nutritious low calorie Indian dinner. Why not serve it with some cottage cheese for a complete dinner experience? In addition, oats are rich in healthy fiber to keep your digestion healthy.
Nutritional information – a serving of 388 grams of masala oats has a calorie content of about 265 kcal.
Garlic vegetable soup
Many people underestimate the nutritional value of healthy soup, and delicious garlic soup is no exception. garlic soup can easily be livened up with nutritious vegetables like onions, carrots, spinach, etc. Therefore, vegetable garlic soup is an excellent low-calorie option.
Nutritional Information – One serving of Garlic Vegetable Soup has 43 calories
Oats Tikki
Yes, tikkis can be healthy too! Delicious and healthy oatmeal is a great way to make your tikki healthy. Also, you can add more vegetables to your tikkis to get more fiber and protein in your diet!
Nutritional Information – There are about 54 calories in one moong oat tikki.
Chickpea curry
Chickpeas are also called "Chole" in Hindi. This legume makes a super nutritious and healthy curry. In addition, it is very low in calories but has a rich nutritional profile. It's packed with nitrates, fiber and healthy fats to keep you healthy.
Nutritional information – a 238g serving of chickpea curry has 33 calories
Conclusion
Low calorie eating is essential if you are serious about shedding a few extra pounds. Luckily, we've compiled a list of healthy, low-calorie foods. Some include Dhokla, Moong dal cheela, saabudana khichdi etc.