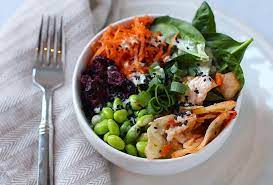 In the age of one-pan wonders and slow cookers, monochrome meals have an automated how we enjoy our meals. While the potential to get dinner out in one washable dish is worthy consolation, we often forget that comfort is baked — not only into the food — but also into the designing of a bowl.
From holding its warmth to feast on the deliciousness laid inside, eating out of a bowl is like cracking open a globe and savoring all the spiced complexity this nation has to provide.
You get to understand their likes and dislikes, momentary quirks, and feelings of that day… and as they stick around the table for seconds, the more comfy everyone becomes.
And as Francis Lam wrote for the New York Times, a grain bowl isn't about the recipe — it's about the formula of grain, protein, vegetable, and dressing that develop a perfect, balanced bite.
avocados + Scallops + kale + hemp seeds
If there was ever a date night-worthy grain bowl, this might be it. Topped with decadent seared scallops, roasted sweet potatoes and red peppers, hemp seeds and creamy avocado, this power bowl is an brilliant source of healthy fats, fiber, and B vitamins. Get the recipe!
Smoky tempeh + carrots + sprouts + brown rice + beets
The star of this ultra-savory rice bowl is, without a uncetainty, the smoky tempeh. Marinated in liquid smoke, maple syrup and hoisin sauce, this mouth watering protein-packed tempeh ensures you won't miss the meat. Brown rice is cooked with aromatics and topped with the tempeh, sprouts, a perfectly soft-cooked egg and plenty of veggies. This colorful bowl will be ready and on the table in a tiny over an hour. Get the recipe!
Ground turkey + peppers + black beans + tortilla chips
Weelicious creates delicious, kid-friendly and easy dishes. This taco bowl is no exception. The grain in this bowl comes in the format of corn tortillas, which added crunch, texture, and the fun-factor for kids (and adults). Layering of fresh lettuce, black beans, fresh vegetables, lean turkey, and cheese combine to make a taco bowl that's packed with fiber and protein and ready in about 20 minutes. Get the recipe!
Smoked salmon + cucumber + avocado + brown rice
Craving sushi but don't need to deal with the hassle of rolling it? Insert this salmon sushi Buddha bowl. This decipher bowl incorporates all of the fresh, umami flavors of sushi in half the time. Boasting brown rice, crunchy cucumber, smoked salmon and creamy avocado, this bowl has 20 grams of protein and will be ready in just 20 minutes. Get the recipe!
Smoky chicken + grilled corn + kale coleslaw + white rice
Light the grill once for this BBQ bowl and you'll have meal-prepped lunches all the week. With 10 grams of fiber and 39 grams of protein, these chicken grain bowls are the healthy spin on finger-licking barbeque. Smoky chicken, a crunchy kale coleslaw and grilled corn knock this grain bowl out of a park. Get the recipe!
grilled pineapple + Teriyaki chicken + coconut rice + zucchini 
For a taste of the summer anytime you'd love, this Hawaiian grain bowl has your real back. Layered with coconut rice, teriyaki-glazed chicken and grilled pineapple, this bowl covers all of the tropical bases to develop a protein-packed bowl loaded with flavor. Don't be frightened by making your own teriyaki sauce — this version is easier and so worth it. Get the recipe!
Egg + avocado + kraut + buckwheat groats
Who told you that grain bowls are restricted to the second half of a day? Here, buckwheat is cooked in a bit of Himalayan pink and coconut oil salt to develop a basis for a bowl that's anything but your typical sunshine oatmeal. Top with jalapeño kraut, a fried egg and spinach for a bowl that will power you through your complete day. Get the recipe!
Broccoli + Almonds + quinoa + edamame
We all understand how great quinoa is for you. But this bowl doesn't stop there. Loaded with chia seeds, almonds, kale and broccoli, this feel-good grain bowl incorporates tons of superfoods and doesn't sacrifice any kind of flavor. Swap the honey for agave in the dressing and this bowl is vegan, too. Get the right recipe!
Don't pre-build the bowls
Outside of meal-prepping your proteins and veggies, don't pre-build up the bowls before dinner starts. Instead, you'll need to lay out empty bowls (or place the cooked grains in the bowl) and let each human grab their own portions.
You might have to guide younger kids to balance their pickings with a tiny more variety, but we've observed that the presentation of choice encourages older ones to eaten up more balanced meals.
Plus, when the flavor lies in the dressing, it's much easy to integrate (and hide) out anything and everything.