The 7 Best Apple Cider Vinegars in 2021: According to Dietician.
Apple cider vinegar is basically an apple juice, but the sugar of the juice is converted to alcohol when yeast is added. Fermentation is the term for this procedure. The alcohol is converted to acetic acid by bacteria. This is what gives vinegar its sour flavor and pungent odour. Apple cider vinegar has been used since ages now. It was used to treat coughs and illnesses in ancient times. Nowadays apple cider vinegar is promoted as a weight-loss aid, acid reflux treatment, and other health benefits.
Raw apple cider vinegar is most commonly used for health reasons since it contains more bacteria's. The hazy sediment in the bottle is made up of these compounds, which are referred to as "the mother." If you see in market there are numerous brands who sell Apple cider vinegar so to find out the best one is quite a big task so for your ease we have mentioned below the best seven apple cider vinegars and everything you should know about Apple cider vinegar.
Nutritional Value:
Acetic acid, which generated during fermentation, is the main component of apple cider vinegar. This acid could be beneficial to your health in a number of ways:
Natural probiotics found in raw apple cider vinegar may aid your immune system and digestive health.
Antioxidants are molecules that protect your body's cells from damage.
Benefits of Apple cider vinegar:
Good Digestion: If you drink Apple cider vinegar by diluting with water and drink it prior your meal like around 20 minutes before your meal it will improve your digestion. As it stimulates digestive juices and enhance better breakdown of food.
Deals with constipation: Regular apple cider vinegar in water is thought to aid with heartburn caused by a lack of stomach acid. But remember that Apple cider vinegar is quite potent and is likely to be too strong for heartburn sufferers, especially those with ulcers, so dilute it thoroughly before intake.
Strong Immune system: The flora in your intestines play an important role in your body's immune system. It seems logical, then, that using apple cider vinegar to improve the circumstances for the growth of natural bacteria can help you strengthen your general immunity.
Blood Pressure: Apple cider vinegar has been demonstrated to lower down high blood pressure in animal tests, and there are numerous reports of people using it for this purpose in online forums.
It's possible that ACV boosts nitric oxide production, which helps blood vessels relax, or it could just have a general good effect on your cardiovascular system, resulting in a natural reduction in high blood pressure over time.
Detoxification: For obvious reason, apple cider vinegar is a prominent element in detoxification programmes. Drinking diluted raw and unfiltered apple cider vinegar is said to help detoxify and cleanse your liver, in addition to all the other body cleansing benefits already mentioned.
Good skin: Apple cider vinegar is a skin tonic that helps to regulate the pH levels of your skin. It can also aid in the treatment of dermatological disorders such as acne when administered both internally and externally on a regular basis.
1. WOW Organic Raw Apple Cider Vinegar – with strand of mother – Not from concentrate – 750mL
In a hi-tech plant in the Himalayas, 100 percent natural apple cider vinegar is made from the best grade Himalayan apples.
Not from concentrate, but from apple juice. For poor breath, a sore throat, and yellow teeth, use the following remedies: Combine apple cider vinegar and water in a 1:1 ratio. Use it to gargle with. You may also soak a cotton bud in it and use it to rub yellowed teeth.
To provide the finest health advantages, it is pure, raw, unfiltered, and unpasteurized with 4% authentic mother of vinegar.
Vitamins, minerals, antioxidants, and enzymes are abundant in this natural food.
A general tonic that aids in the improvement of overall health.
WOW Apple Cider Vinegar is made from the freshest, clearest juice of Himalayan apples and is natural, raw, unfiltered, and unpasteurized, with living 'Mother of Vinegar' for added strength.
2. Bragg Organic Raw Apple Cider Vinegar – 473 ml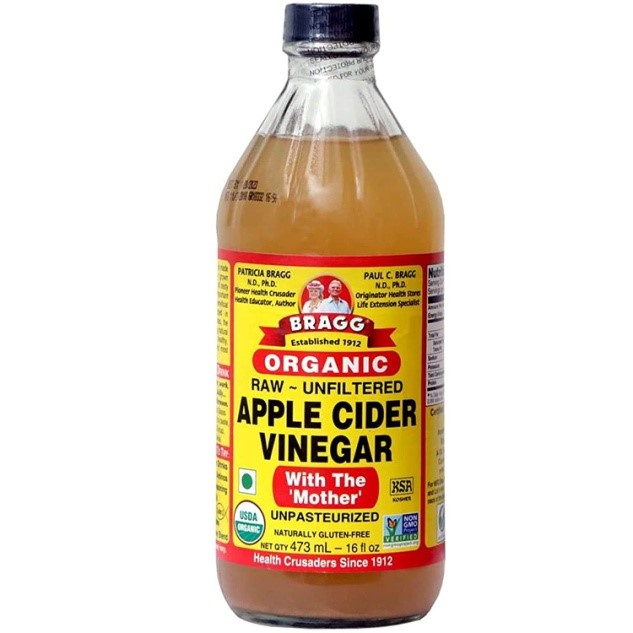 The number one selling organic apple cider vinegar brand in the United States.
Unprocessed, unfiltered, and unpasteurized
Maintain a strong immune system.
Enzyme- and potassium-rich, Maintain a strong immune system. Helps in weight loss, digestion, and pH balance, as well as soothing dry throats and removing toxins from the body.
It aids in the maintenance of healthy skin, as well as the promotion of youthful, healthy bodies. Relieves muscle soreness from activity and soothes sensitive skin.
The pH of your skin is regulated by natural apple cider vinegar. To replace your current toner, dilute ACV with two parts water and apply the mixture to your face with a cotton ball.
3. Dabur Himalayan Apple Cider Vinegar with Mother of Vinegar | Raw , Unfiltered , Unpasteurized – 500 ml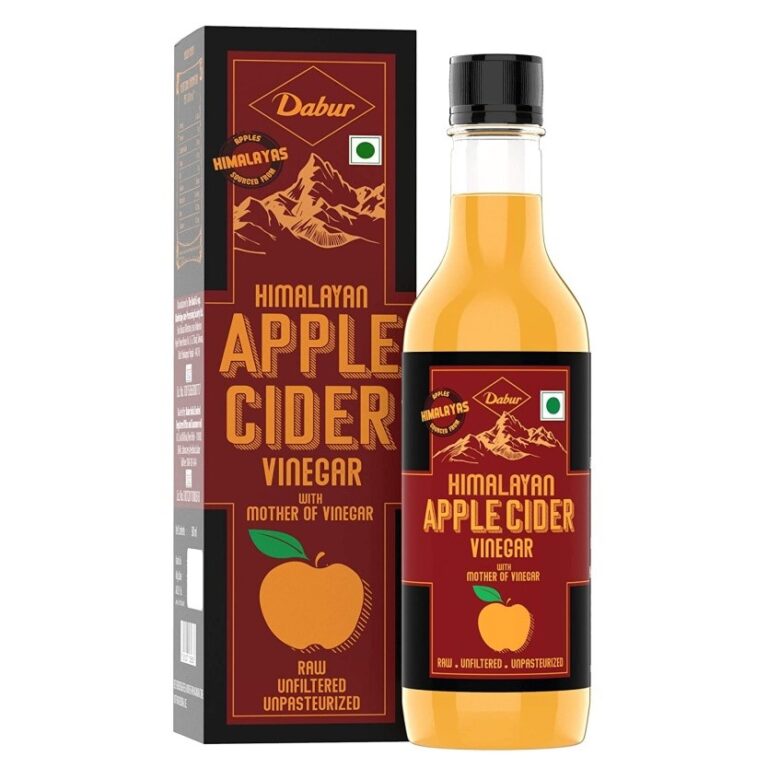 Made from the juice of high-quality apples cultivated in the orchards of Himalayan virgin hills.
It's 100 percent natural, raw, unfiltered, and unpasteurized, with real mother of vinegar content, and it's been shown to help with a variety of health issues.
It includes no added colours or preservatives and is naturally high in antioxidants.
It will help you manage your weight if you drink it every morning with warm water.
Apple cider vinegar boosts immunity and gives you a surge of energy.
It is well-known for its ability to relieve sore throats, improve digestion, and maintain healthy cholesterol levels.
4. St.Botanica Natural Apple Cider Vinegar with Mother Vinegar – 500 ml – Raw, Unfiltered, UnRefined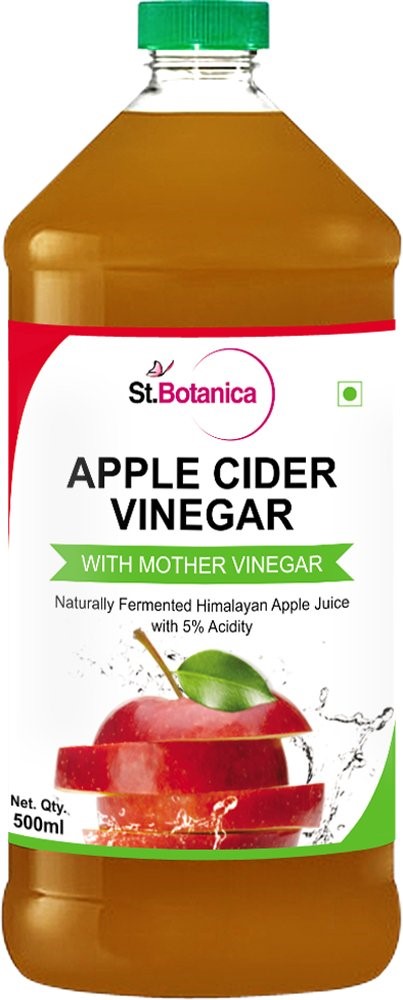 Pure, natural, and infused with the virtues of vinegar's "Mother." Apples cultivated in the Upper Himalayas and farm fresh honey were used to make this dish. There is no additional sugar. There are no preservatives in this product. Unpasteurized, unfiltered, unrefined, and raw
The vitamins and minerals in St. Botanica Apple Cider Vinegar help to increase immunity and energy. Mother's milk, raw and unfiltered
When combined with high-carbohydrate meals, apple cider vinegar can help you feel fuller for longer, lowering your calorie consumption and aiding weight loss.
Because of the significant alkalizing effect it has on your body, apple cider vinegar is a general health tonic that helps increase energy and immunity.
StBotanica Apple Cider Vinegar is made with wonderful Himalayan apples and is 100 percent pure. It has the goodness of the'mother' of vinegar, which gives it a hazy appearance but is an indication of high quality raw vinegar. There are no artificial flavours, colours, or preservatives in this product. Contains no additives and is made entirely of fresh Himalayan apples.
There are no sulphates, parabens, or mineral oils in this product.
5. Neuherbs Certified Organic Apple Cider Vinegar with Mother for Weight Loss Management : 500 ML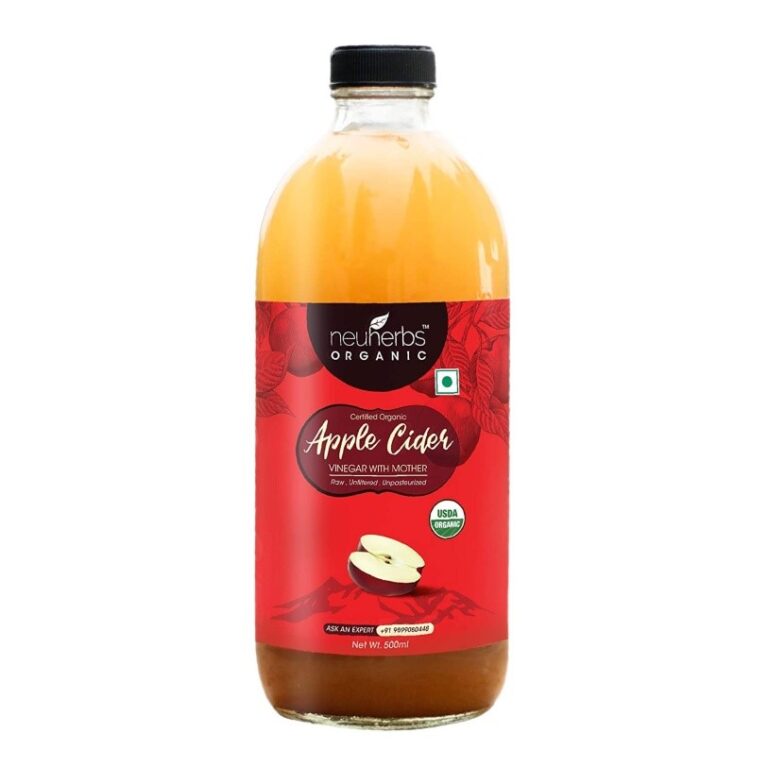 Neuherbs organic apple cider vinegar with mother has certifications from the USDA, India, and one cert certified organic, ensuring that the product is organically certified.
Neuherbs organic apple cider vinegar with mother is made from fresh, natural apple juice and contains no preservatives, artificial flavors, or colors. It contains Added sugar.
The presence of mother enzymes in organic apple cider vinegar with mother gives it a murky appearance, which can help to improve your digestive system.
6. NourishVitals Apple Cider Vinegar with Mother Vinegar – 250 ml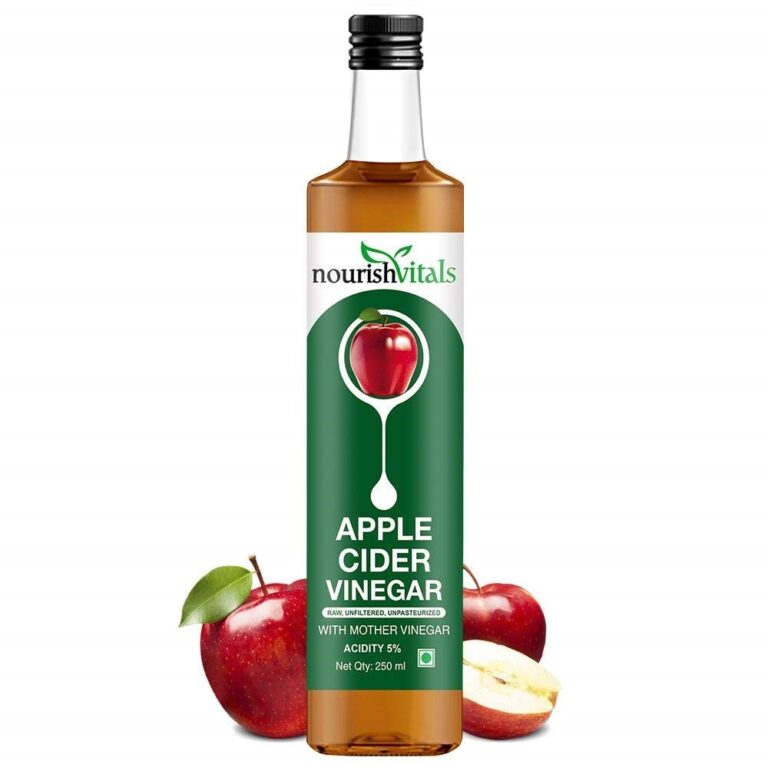 The dominant protein source, fast-acting whey protein isolate, is setting new gold standards. Per 32g serving, there are 121 calories, 25 grams of protein, 083 grams of fat, 0 grams of sugar, and 0 grams of trans fat.
A higher protein content (25 g of protein, 80 percent whey protein by weight) calcium, sodium, potassium, and phosphorus-fortified.
There's less cholesterol, fat, and sodium with ultra-filtered whey. 551 grammes of bcaas and 418 grammes of glutamine and glutamic acid
Instantly creates a rich café mocha flavour that can be mixed easily with a glass and spoon.
International manufacturing standards nsf-gmp, iso 22000, ohsas 18001, and iso 14001 certified were used to create this product.
7. HealthKart Apple Cider Vinegar (ACV), Unflavored- 500 mL (ACV Filtered, 500mL)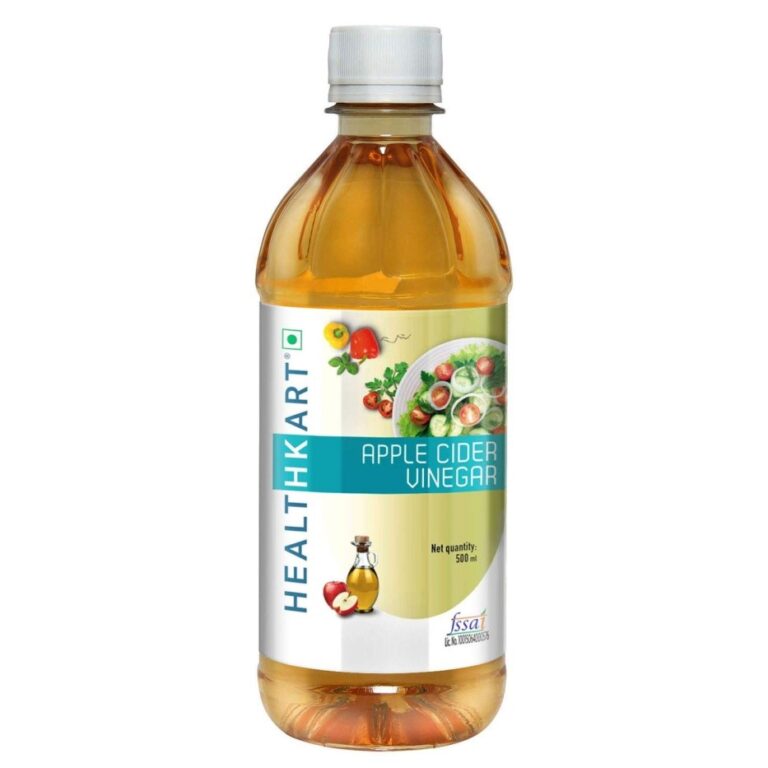 Apple Cider Vinegar from HealthKart is 100 percent natural and purified.
"HealthKart Apple Cider Vinegar is naturally fermented from Himalayan apples and aids in weight loss and digestion."
When applied externally to hair and skin, HealthKart Apple Cider Vinegar softens and shines hair while also treating dandruff and acne/pimples.
Vitamin C, B vitamins, antioxidants, and acetic acid are all powerful antioxidants found in HealthKart Apple Cider Vinegar.
HealthKart products are made in a GMP-certified facility that is ISO and FSSAI certified.
Apple Cider Vinegar from HealthKart is 100% natural and safe to consume. It's a by-product of Himalayan apple fermentation that produces pure fermented juice with 5% acidity.
The potency and integrity of the components used and indicated on the label are ensured by HealthKart. It is ensured that both the raw ingredients and the finished goods are of the highest quality.
So consider above mentioned 7 best Apple cider vinegars for your next purchase they are best in quality and are easily available on Amazon but never consume it directly always dilute before drinking it.