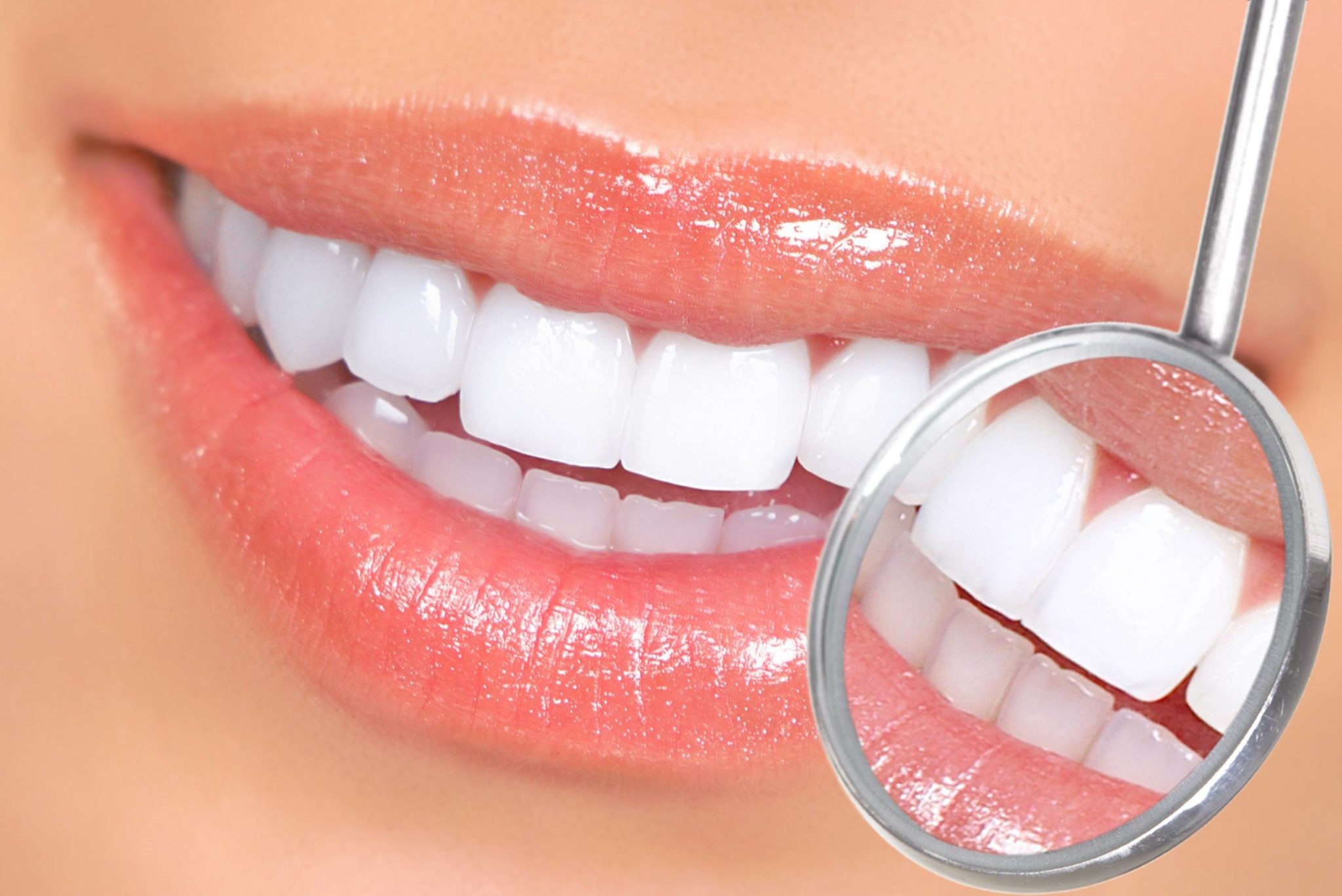 As per studies people often notice the smile of the person they met first so you could consider it as your first impression. And nobody wants their first impression to be discoloured especially teeth as they are related to your hygiene people might judge you and your way of living by just seeing your teeth and also it induces a foul smell. It will never be good when you talk to someone and they feel uncomfortable because of your mouth's smell.
Brushing your teeth daily two times is all you should do as per most dentists and even elder ones but to know more on teeth whitening you need to read this blog and if you are facing teeth discolouration issue then we got your back as we have mentioned 12 proven Natural home remedies for teeth whitening so it will surely help you.
Baking Soda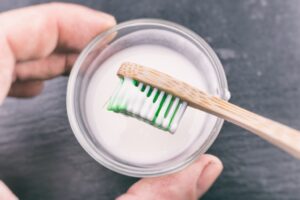 Organic whitening qualities can be found in baking soda. Abrasive baking soda can be used to clean your teeth if you still have food stains. It will not whiten your teeth, but it will clear the stains. However, don't use it too often because it can harm your teeth enamel. Consequently, most toothpaste contains baking soda in a certain form. You just need to mix water and baking soda to create a thick paste and brush your teeth.
Lemon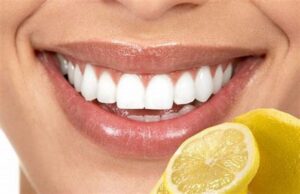 Lemons are high in vitamin C and have bleaching properties, which can aid to remove yellow staining. You could use lime juice or lime zest, both of which can help whiten your teeth by containing calcium and acid, which can destroy the enamel. It contains antibacterial properties, which may aid in the fight against oral germs. It's also mildly acidic, which could aid with tooth discolouration. Furthermore, it is a natural treatment.
Apple cider vinegar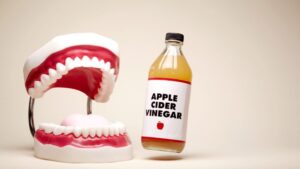 In particular, apple cider vinegar is a known antibacterial item and home cure for teeth whitening. Gently circulate some apple cider vinegar across your teeth while using vinegar as a natural teeth whitening treatment. If you do not like the taste, you can dilute it with water in an equal proportion. After that, brush as usual.
Although it is incredibly effective, vinegar should only be used on a limited basis. Because vinegar is an organic acid (acetic acid), acids dissolve calcium in your enamel, causing caries.
Fruits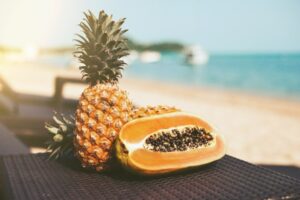 Fruits have always been accessible in the refrigerator, making natural tooth whitening a breeze. If you enjoy papaya and pineapples, you're in luck because they both contain high levels of papain and bromelain enzymes, which can help you to whiten your teeth. Several clinical researchers contend that such enzymes are effective at teeth whitening.
Coconut Oil Rinsing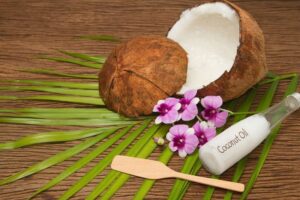 Coconut oil's perks are expanding, and they now include your smiles! The phrase "oil pulling" is both accurate and efficient. If you can stomach the taste, this tried-and-true method works. Coconut oil's lauric acid aids in the battle against germs that cause plaque to turn yellow. This miracle oil also enhances the condition of your gums and eliminates bad breath.
Turmeric
Turmeric is recognised for colouring yellow items, such as skin, textiles, and other surfaces. It is often used as a fabric dye. Although, few people are aware that it has the potential to significantly whiten our teeth. Turmeric's astringent, antibacterial, antiseptic, and therapeutic characteristics may help to naturally whiten discoloured teeth and improve overall oral health.
Flossing And Brushing
Brush your teeth for around 2 minutes twice a day. Make sure your toothbrush has soft/medium bristles to avoid damaging your gums. Many Indians do not take flossing properly, yet it is past time for them to do so. Flossing can help to remove any stains, especially those between your teeth, over time. Because enamel is made up of vertical glass-like rods, brushing from side to side might cause damage. Brush in circular motions to reduce tooth deterioration.
Hydrogen Peroxide
The primary ingredient is hydrogen peroxide, which is frequently used in whitening solutions. It contains a moderate bleaching agent that can remove yellow discolouration from your teeth and substitute it with white colour. Because of its organic bleaching agent, hydrogen peroxide (H2O2) may eliminate microorganisms in your mouth. A study found that using toothpaste with 1% hydrogen peroxide and baking soda resulted in noticeably brighter teeth.
Table Salt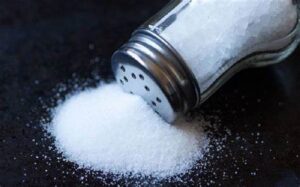 Salt (or sodium chloride) can also be used to whiten teeth. It has some antibacterial properties, although not as much as baking soda.
Put quite so much salt as you can bear in a glass of water and swirl it all around your teeth. Afterwards, brush your teeth with regular toothpaste and rinse your mouth with mouthwash. In the event of an infection, this all-natural teeth whitening treatment can also be used to clean your mouth.
Activated Charcoal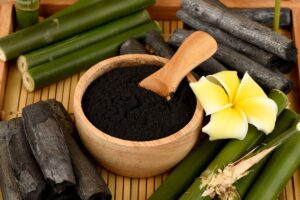 By trapping grime and minuscule nibbles which induce staining, activated charcoal, an absorbent agent intended to retain toxins within the body, could help whiten your teeth. Wet a brush and immerse it into powder activated charcoal to organically whiten your teeth. Brush your teeth, as usual, paying extra attention to the areas that are stained the most. Drink a little water, swish it about in your mouth, and spit it out. Rinse thoroughly until the spit is clear.
Strawberries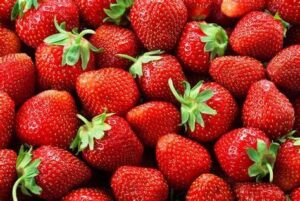 Certain famous people claim that eating nutritious foods like strawberries helps them whiten their teeth. Berries, which contain healthy antioxidants and chemicals, may improve the health of your teeth. They are not, though, the only ones who maintain your teeth looking terrific as you get older. The health of your teeth is inextricably linked to the quality of your food.
Babool Tree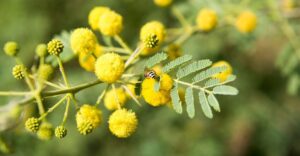 Because of its tannic and astringent qualities, the babool tree, also known as Acacia Arabica, is regarded as the most tooth-friendly tree. These substances might help you whiten your discoloured teeth. It also aids in the treatment of gingivitis and chronic periodontitis. You just need to get a twig of babble and use it as a brush but be careful and don't hurt your gums and neither does doing harshly will help so be gentle.