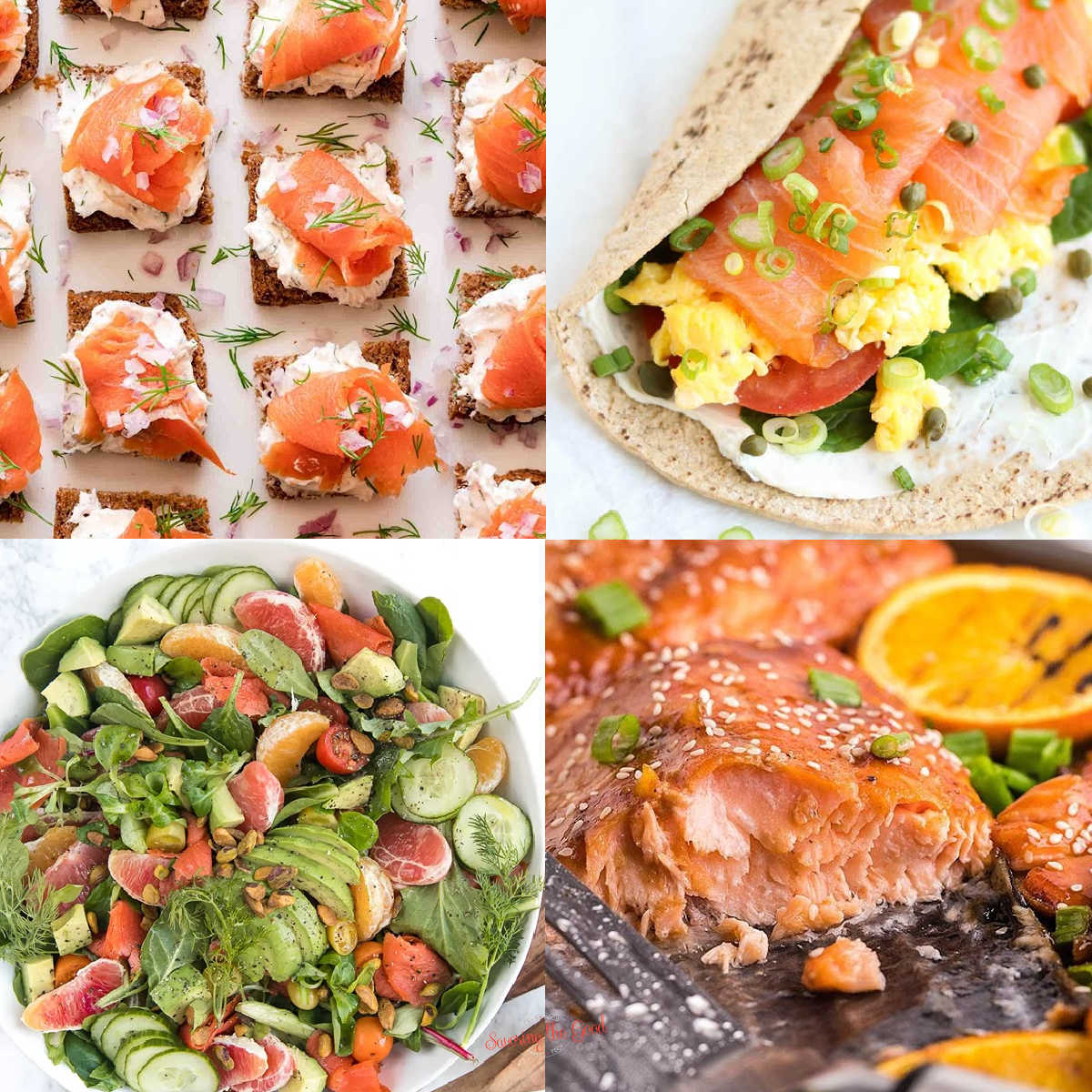 This smoked salmon and cream cheese bagel is ideal for breakfast or brunch. Most grocery stores carry presliced smoked salmon and cream cheese, making this meal quick and easy to prepare and serve.
Salmon that has been smoked has gone through a curing process and has been hot- or cold-smoked. Smoked salmon is considered a delicacy due to its somewhat high price.
The smoking method protects salmon against germs that might cause deterioration. The fish is salt-cured and partially dried throughout the process, which inhibits bacterial activity. Bacteria such as Clostridium botulinum, which can occasionally be found in shellfish, are eliminated by the high heat treatment used in hot smoking. The high salt concentration inhibits microbial development.
Fresh herbs, such as dill or chives, complement the smoked salmon bagel. You can garnish with thin pieces of tomato or cucumber. Avocados are another common addition to this classic bagel mix. Because you can turn the construction process into a bagel bar, your guests can build their bagels, this dish is ideal for brunch groups and bridal or baby showers. It is simple to put up and involves no cooking; for maximum freshness, buy fresh bagels the morning of the party. Bagel bars are also not seasonal; this fun approach can be used all year. If you anticipate having gluten-free, dairy-free, or vegan guests, you can simply accommodate them by purchasing a few gluten-free bagels and serving dairy-free toppings such as tofu-based spreads or hummus. If you have guests who aren't fans of smoked salmon, they can simply leave it out and customize the bagel to their desire.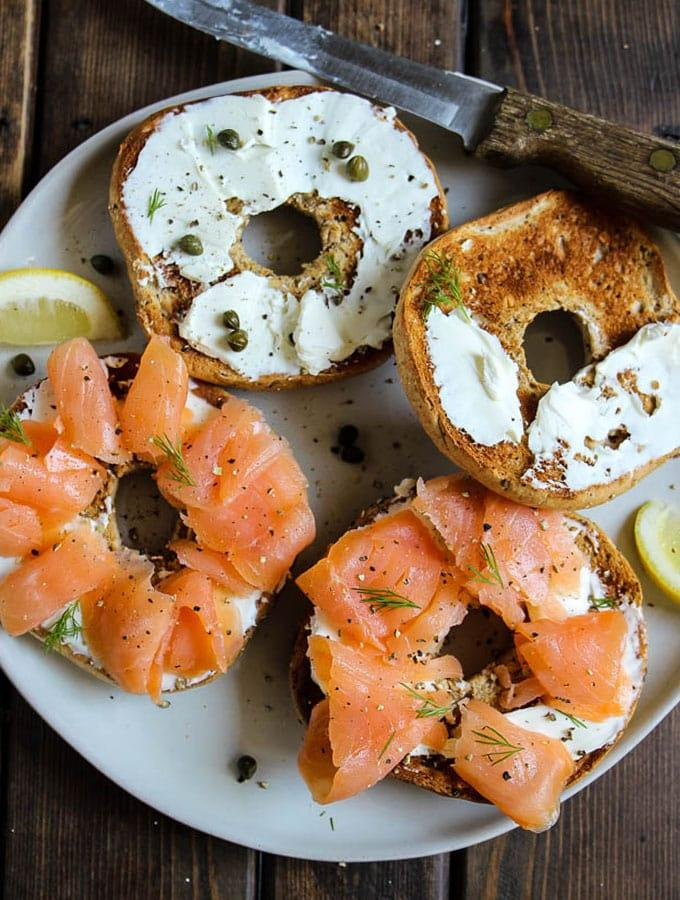 The History of Bagel and Cream Cheese with Smoked Salmon
Bagels' origins can be traced back to the 16th century in Poland. Jewish immigrants popularised bagels in North America in the late nineteenth and early twentieth century. Cream cheese did not become a popular spread on bagels until the 1930s. Bagels with cream cheese are now commonplace in many households and are liked by individuals from many walks of life.
Smoked salmon on bagels and cream cheese is a more recent trend. It is thought to have started in New York City in the early 1900s. Smoked salmon, cream cheese, and bagels were popular among Jewish immigrants who took their culinary traditions with them to the United States. Bagels and cream cheese with smoked salmon are becoming popular breakfast options throughout North America and the world.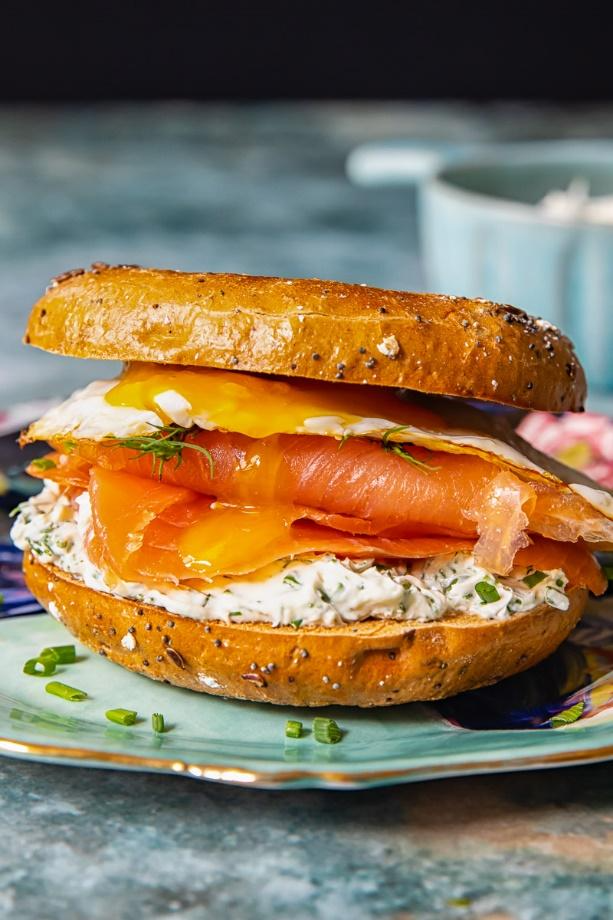 Ingredients
3 medium split and toasted bagels 6 ounces melted cream cheese 3 teaspoons drained and divided capers, optional
6 ounces smoked salmon or lox, thinly sliced
Optional: 1/3 cup finely chopped red onion
To taste, freshly ground black pepper
Garnish with lemon wedges.
Steps to follow to prepare
Cream cheese should be spread on the toasted bagel bottom halves. If desired, scatter half of the capers over the cream cheese.
Serve with sliced smoked salmon on top.
Top the bagel with the remaining capers, onion, and black pepper.
Serve with fresh lemon wedges as garnish.
The Advantages of Eating Smoked Salmon
Smoked salmon is a nutritious and tasty addition to any meal. It contains protein, omega-3 fatty acids, and vitamins B12 and D. Omega-3 fatty acids are important nutrients that have been found to lower inflammation, improve heart health, and enhance brain function. Vitamin B12 is required for nerve function and red blood cell synthesis, whereas vitamin D is required for healthy bones and immunological function.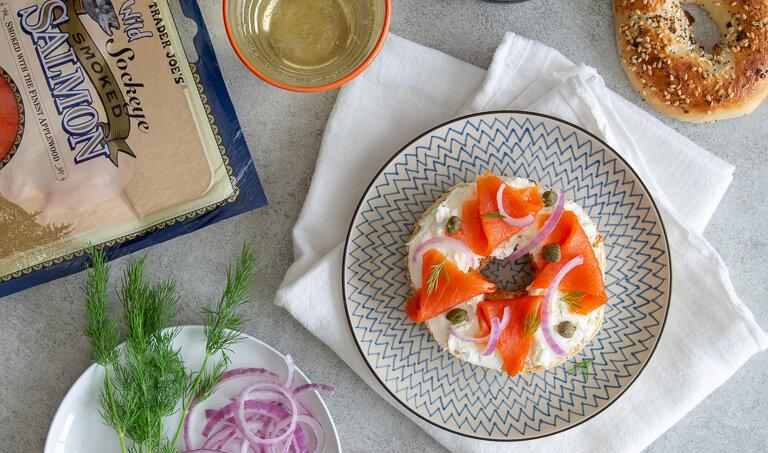 Smoked salmon is minimal in calories and fat, in addition to its nutritional benefits. This makes it an excellent alternative for folks who are seeking to lose weight or maintain a healthy diet. Smoked salmon is highly adaptable and can be used in a wide range of dishes including salads, pasta dishes, and of course, bagels and cream cheese.
How to Make the Best Bagel and Cream Cheese with Smoked Salmon
Following these simple guidelines will help you make the perfect bagel with cream cheese with smoked salmon:
Select a high-quality bagel. A fresh, chewy bagel will make or break the final product. Look for a bagel that has a slightly crunchy surface and a soft middle.
Choose a good quality cream cheese. Smooth and creamy, with a mild flavor that complements the smoked salmon, the cream cheese should be smooth and creamy.
Make use of thinly sliced smoked salmon. This will make it easier to eat and provide a balanced mix of smoked salmon and cream cheese in each bite.
Add some flavoring. Consider adding sliced red onion, capers, or fresh dill to your smoked salmon bagel and cream cheese. These items will enhance the flavor and texture of your dish.
Lightly toast the bagel. Toast the bagel lightly before adding the cream cheese and smoked salmon for a slightly crunchy texture and to reheat it.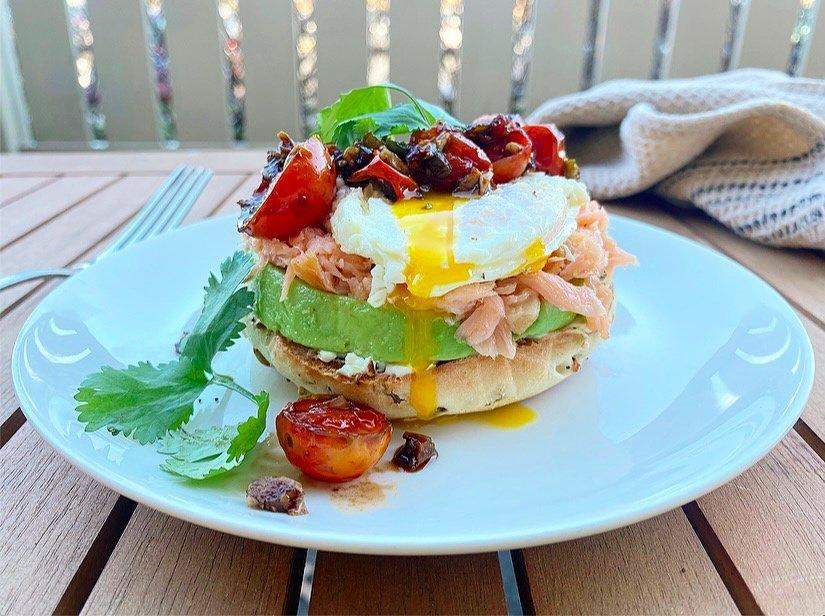 Conclusion
A classic and tasty breakfast of bagel and cream cheese with smoked salmon is ready in minutes. This simple yet filling dish is ideal for busy mornings when you need a quick and easy breakfast to keep you going throughout the day. You can make the ideal bagel and cream cheese with smoked salmon every time with a few simple tips. Give bagels and cream cheese with smoked salmon a try the next time you're searching for a nice and nutritious breakfast choice – you won't be disappointed!