People often confuse healthy skin with fair complexion and it is totally wrong. Healthy skin is simply acne, scars and pigmentation-free skin. Even tone is all you need to work on rather than spending money on useless products and treatments to get a fair complexion. There are several natural ways to repair your damaged skin. You must know how to cleanse your skin as cleansing is the most important part of skincare.
Afterward, you should keep experimenting with different products on your skin as it might adversely affect your skin, which could lead to allergies or rashes on your face. Avoid applying chemicals on your face even if you use face wash and other products do check the components and go for the organic and milder ones with no harsh elements.
This blog is all about natural tricks and tips to make your face clean and beautiful naturally and also the 6 steps daily skincare routine that you must follow to get your desired skin.
Natural tips to follow for healthy and glowing skin
● Daily wipe off your cosmetics before heading to your bed. Nighttime, the skin needs a break. And makeup prevents this because keeping it on at nighttime blocks pores, which can lead to pimples and blackheads.
● Consume fresh fruits and vegetables, as well as adequate protein and vitamins. Glowing skin is aided by a diet high in vitamin C and low in fats and sugar. Consider a low-sugar diet, which can help cells maintain a proper balance by lowering insulin levels.
● Workout regularly. Cycling, jogging, and yoga will provide your body with essential blood circulation while also speeding up the detoxification process. After exercising, you would observe a glow on your face.
● Drink plenty of water. Drink at least 8 glasses of water per day, if not more. Watermelon, cucumbers, citrus, strawberries, grapefruit, and cantaloupe are among the fruits and veggies with high moisture content. Apply rose water as well. When spritzed on throughout the day, it helps avoid and decrease eye swelling, maintains pH balance, and organically moisturizes your skin.
● Take care of yourself and strive to stay as stress-free as possible. Have you ever observed that you break out more when you're stressed? This is because stress leads your body to create cortisol and other hormones, which causes your skin to become oilier. Deep breathing, yoga, and meditation are all good ways to relieve stress. You glow deeper the more you relax.
● Every four to five days, switch away from your pillowcases. Up overnight, a clean, bacteria-free pillowcase could protect your skin from popping.
● Please keep your hands away from your face. Stop resting your chin in your palm or worrying with your face all the time. Even little amounts of oils on your hands might induce outbreaks.
● Sleep with your hair tied back. Keep your long hair off of your face when you sleep. Braid your hair back and secure it with pins or a headband to keep fringe off your face.
6 steps you need to follow
Step 1: Cleanse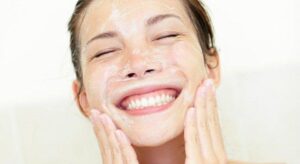 Sweat, oil, grime, and other contaminants that your skin naturally gathers during the day and evening are removed by cleansing the skin. This will be the first step in your fresh straightforward skin care regimen.
To maintain your pores clear and your skin fresh, exfoliate your face in the mornings and before going to bed. Your face wash may differ depending on your skin type, but the general belief is that all cleansers should be applied in an upward, circular motion to avoid wrinkles. To avoid additional dirt from invading your pores, make sure your hands are thoroughly washed. If you have really sensitive skin, simply using water will suffice. Also, you must know your skin type and then buy any face wash with good components that suits your skin type.
Step 2: Toner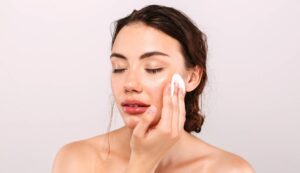 Toning is a significant factor of your skincare routine that has skin-beneficial benefits. Toner is used after cleansing your skin to eliminate any residue left by the cleanser and also any makeup or oils that the cleanser may have neglected. The additional cleansing benefits help in preparing your skin for moisturizer absorption while also reducing the clogged pores. Certain toners may also have antibacterial and PH balancing properties. Toner should be applied immediately after cleansing your skin, while it is still moist. It's ideal to use a cotton pad or cotton ball to apply it, immersing the pads in the toner and swiping upwardly, beginning at your neck.
Observe if toning is working for you or not because it persists in alcohol and sometimes it doesn't suit certain skin types if it happens with you removing this step from your skincare.
Step 3: Exfoliate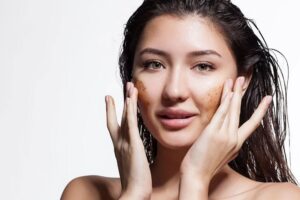 Daily, our skin sheds lots of skin cells, however, these cells can accumulate on the surface of our skin and require additional assistance to be eliminated. Dead skin cells which have gathered in our pores are removed by exfoliation. You won't want to skip this step if you suffer from blackheads, acne, or outbreaks.
Exfoliate about one 3 times each week, according to most specialists, but this varies with your skin type and how it responds to exfoliation. Experiment with different options to see what works best for you. Chemical exfoliants, including AHA and BHA, are more efficient at penetrating deeply into your pores and eliminating debris.
Step 4: Moisturize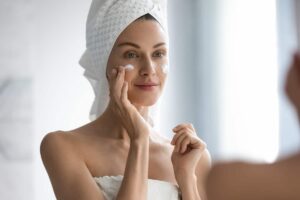 Moisturizing coats the epidermis in a protective barrier which seals in moisture and maintains it nourished. Your skin's smooth, radiant appearance is due to this moisture. Undoubtedly, you don't want to neglect this step in your skincare routine.
Choose a moisturizer that matches your skin type, whether it's a cream, lotion, gel, or oil, and gently massage it into your face in an upward motion, taking care not to pull on the sensitive skins around your eyes. Allow time for the moisturizer to seep in so that you can reap the full advantages.
Step 5: Apply SPF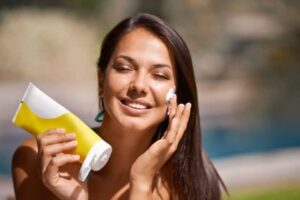 Skin cancer is caused by exposure to the sun, which is the most destructive element for the skin. As a result, using an SPF moisturizer or using sunblock after your moisturizer is essential to safeguard your skin from the sun's harmful UV rays and preserve a young and healthy appearance.
Step 6: Apply mist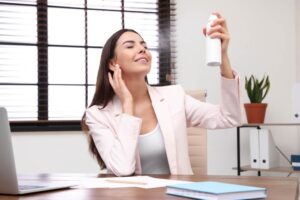 Applying mist after SPF is good because it makes you feel refreshed and also keeps your creams intact on your face.