Top 10 effective ways to increase oxygen level organically
Covid-19 caused oxygen crisis during second wave you must have witnessed how people literally dies because of no availability of oxygen. As now third wave of Covid-19 is almost confirmed it is better if you be prepared Oxygen concentrators are one among essentials for the ones who suffer from pulmonary distress or oxygen requiring diseases and now Covid-19 too.
Oxygen concentrators are costlier than oxygen cylinder's but they can assist you when you are in urgent need by saving your time and nothing is more important than your life.
Apart from Covid-9 there are medical conditions which require concentrators and if you are confused that which one to buy then here we are to help you just follow the guide below and choose best one.
What is Oxygen Concentrator?
Oxygen concentrator is a device which concentrates oxygen by a gas source as it filters just oxygen through the gas source and removes nitrogen selectively to provide pure oxygen to patient. It is required by the ones whose blood oxygen level lowers than normal oxygen level.
Always consult with doctor before using oxygen concentrator.
Working of Oxygen Concentrator:
Filtering the surrounding air, compressing it to the desired density, and then supplying purified medical grade oxygen to the patient via a pulse-dose delivery system or continuous stream system are all workings of oxygen concentrators.
It also has unique filters and sieve beds that help remove nitrogen from the air, ensuring that the patient receives totally purified oxygen. These devices also have an electronic user interface that allows you to change the oxygen concentration levels and delivery settings. The oxygen is subsequently inhaled using a nasal cannula or a specific mask.
Filtering ambient air is how an oxygen concentrator works. The concentrator filters just oxygen through the air, allowing nitrogen to escape to the outside, while also increasing oxygen density to provide users with air that is 90-95 percent oxygen.
While cylinders must be refilled on a regular basis, oxygen concentrators can operate 24 hours a day, seven days a week.
Things to consider while choosing Oxygen Concentrator:
Portability: When purchasing oxygen concentrators, first and most crucial things to consider is how mobile you'll need your concentrator to be. The size and portability of oxygen concentrators can vary greatly.
High-powered oxygen concentrators give higher flow rates, although they are often bulkier and heavier. These versions are frequently intended to produce larger flow rates and are an excellent choice for usage in the home.
These portable oxygen concentrators forgo higher flow rates in order to be substantially easier to move. They weigh between 5 and 10 pounds.
Flow Rate: The pace at which oxygen is transferred from the machine to the patient is referred to as flow rate.
The appropriate flow rate for a patient is usually recommended by a doctor, therefore you should first check with one.
Oxygen concentrators varies in flow rate from 200ml to 10 litres per minute. Because not all oxygen concentrators offer the same range of flow rates, it is critical that buyers research the flow rate supplied by a device before purchasing.
Noise: The amount of noise that oxygen concentrators make when operating varies. Some of the most compact portable concentrators are quite quiet and unobtrusive. Other goods, such as high-powered, high-flow-rate devices, can be a little noisier when in use since they require more power and have a higher rate of oxygen flowing through them.
Oxygen Concentration: The oxygen provided to the patient has a certain percentage of pure oxygen.
The most common oxygen concentration values are between 87 and 99 percent; however, this number might vary amongst oxygen concentrators. Higher-powered oxygen concentrators for patients who require high oxygen flow rates can also provide higher oxygen concentrations, however lightweight, portable oxygen concentrators for patients who don't require the greatest oxygen concentrations can't.
Portable oxygen concentrators normally last 4 to 8 years, while regular oxygen concentrators last closer to 7 to 10 years, depending on the model.
Five Best Oxygen Concentrators:
1. Gvs Oxygen 5L Oxy-Pure Ultra Silence Oxygen Concentrator:
GVS Oxy-Pure is intended for usage in hospitals, nursing homes, clinics, and private residences. Pressure Swing Adsorption is the method by which it collects oxygen from the atmosphere (PSA).
The GVS 5-liter Oxy-Pure ultra-quiet oxygen concentrator with flow rate of 0.5 to 5 litres per minute and a 93 percent (3% ) oxygen content. The noise level is 43 DBA, the outlet pressure 0.04-0.07 mpa.
It comes with a humidifier that adds moisture to the outflowing air, reducing dryness and preventing discomfort in the nasal passages and throat. This equipment consumes 300 watts of electricity.
This product has a 24-month or 5000-hour warranty.
2. Dr Trust Respiright Oxygen Concentrator – 1101 (White):
With a 390VA power consumption, this home oxygen concentrator is designed to provide a convenient 7continuous supply of oxygen.
Pumps high-concentration oxygen into the circulation of patients with airway irritation. Patients with Pneumonia, Asthma, RDS, and BPD are commonly prescribed this medication.
It creates concentrated oxygen by separating oxygen from ambient air and removing contaminants. It can supply up to 5 LMP concentrated oxygen after only 30 minutes of use.
Transom Filter, Intake Filter, Humidifier, Oxygen Tube, Power Cord, Power Switch, Safety Valve, and other elements are included to ensure that filtered oxygen is delivered safely.
Its operations are more convenient and dependable thanks to the power loss alert feature, high and low-pressure alarm function, and low oxygen concentration alarm function. For further durability, it comes with a plastic outer casing. Both the compressor and the concentrator are heat-protected to ensure their safety.
3. Philips Respironics Simply Go Portable Oxygen Concentrator (White):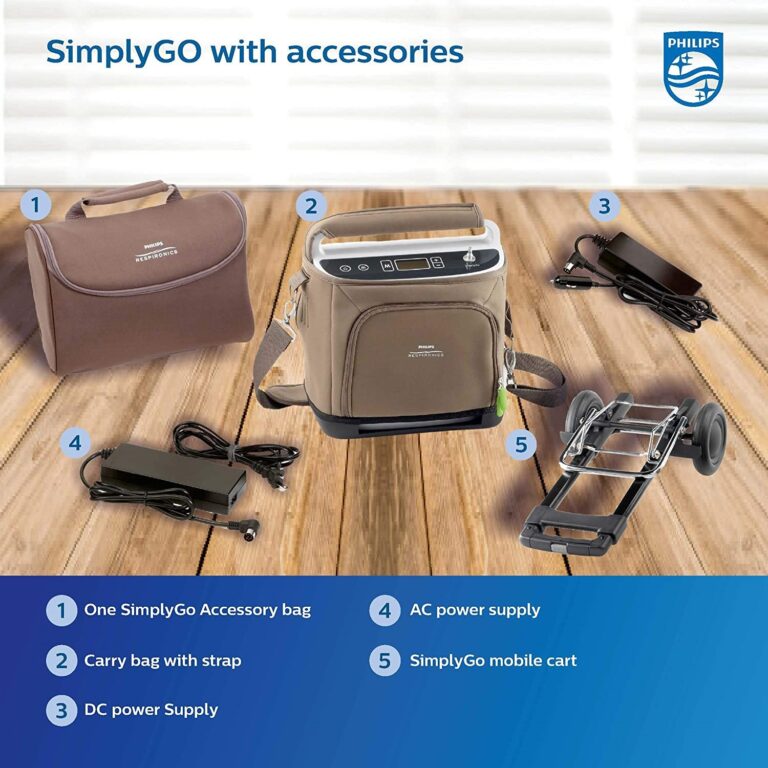 At under 10 pounds, it's easy to transport anywhere, at any time.
Continuous oxygen delivery ranging from 0.5 to 2 litres per minute
Touch-pad interface that is simple to use
Rechargeable battery that is easy to replace/remove
Travel is FAA certified.
Can be utilised at home or on the go 24 hours a day, seven days a week.
The SimplyGo comes with a standard 2-year warranty.
4. Oxymed mini oxygen concentrator machine 3 years warranty portable and easy to use (WITH REAL TIME LOW PURUTY DISPLAY)93 PERCENT PURITY AT 5 LTR: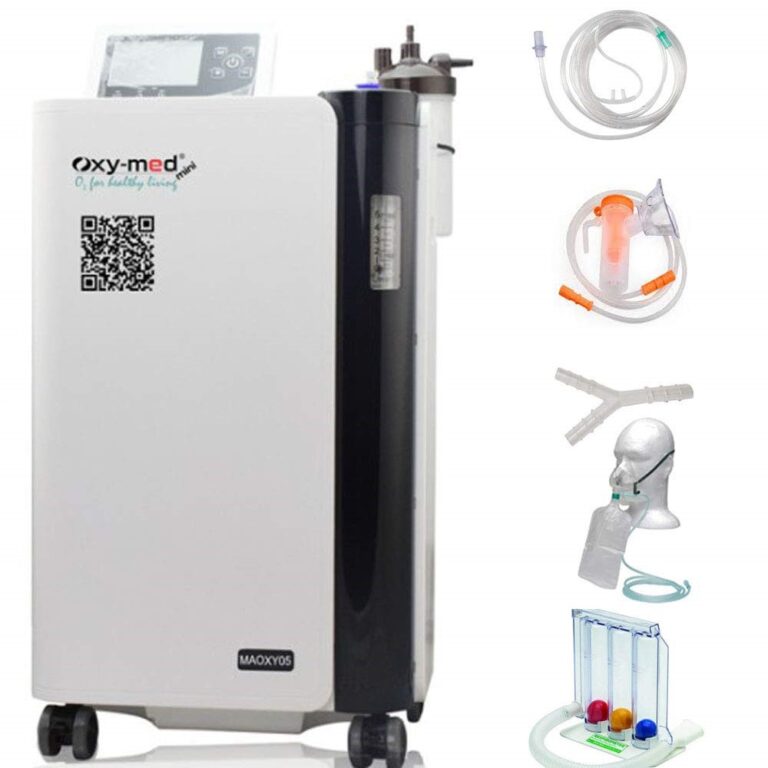 A medical-grade oxygen generator, the Oxymed oxygen concentrator. It produces between 0.5 and 5 litres of oxygen per minute and has a purity level of 93 percent (3%). The machine has a nebulizer and can handle many users. A dust filter and a HEPA filter are also included to keep bacteria, dust mites, and other allergens out of the air.
The oxygen concentrator, nebulizer kit, humidifier bottle, HEPA filter, dust filter, high oxygen mask, oxygen splitter, three nasal cannulas, glucometer, and user manual are all included in the package.
It comes with a large displacement compressor that allows it to run continuously for 24 hours and increases the device's lifespan by 30%. An innovative digital flow regulator (more accurate than a mechanical flow regulator) with a 0.5 l/min interval monitors the oxygen flow.
5. Philips Oxygen Concentrator: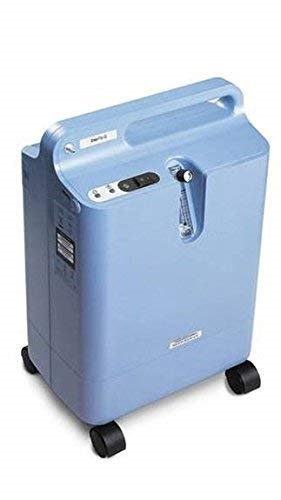 Philips offers the Oxylife Respironics Oxygen Concentrator, a home oxygen device. It has a maximum flow rate of 5 litres per minute. It has a small footprint and is simple to maintain. The Philips Respironics is a home-use stationary oxygen concentrator. It offers patients at home round-the-clock treatment. It is a low-cost and effective home oxygen therapy option.
At flow setting 5, the oxygen purity is 93 percent 3%. The device's pressure outlet is 5.5 PSI, and the sound level is 45dB. The working temperature ranges from 12 to 32 degrees Celsius, with a humidity level of up to 95 percent. The storage temperature ranges from -34°C to 71°C, with a transport humidity of up to 95%. 7500 feet is the operating altitude.
The machine's average power usage is 350W, at a voltage of 120V AC (10%). The product's dimensions are 24cm x 38cm x 58cm. The warranty is for three years.
Conclusion:
Above mentioned guide will help you to buy the best oxygen concentrator always look for the specification you should consider hope this will help you. Always consult doctor prior buying and using oxygen consentrator.
Navigate to this page for more details about this new blog.