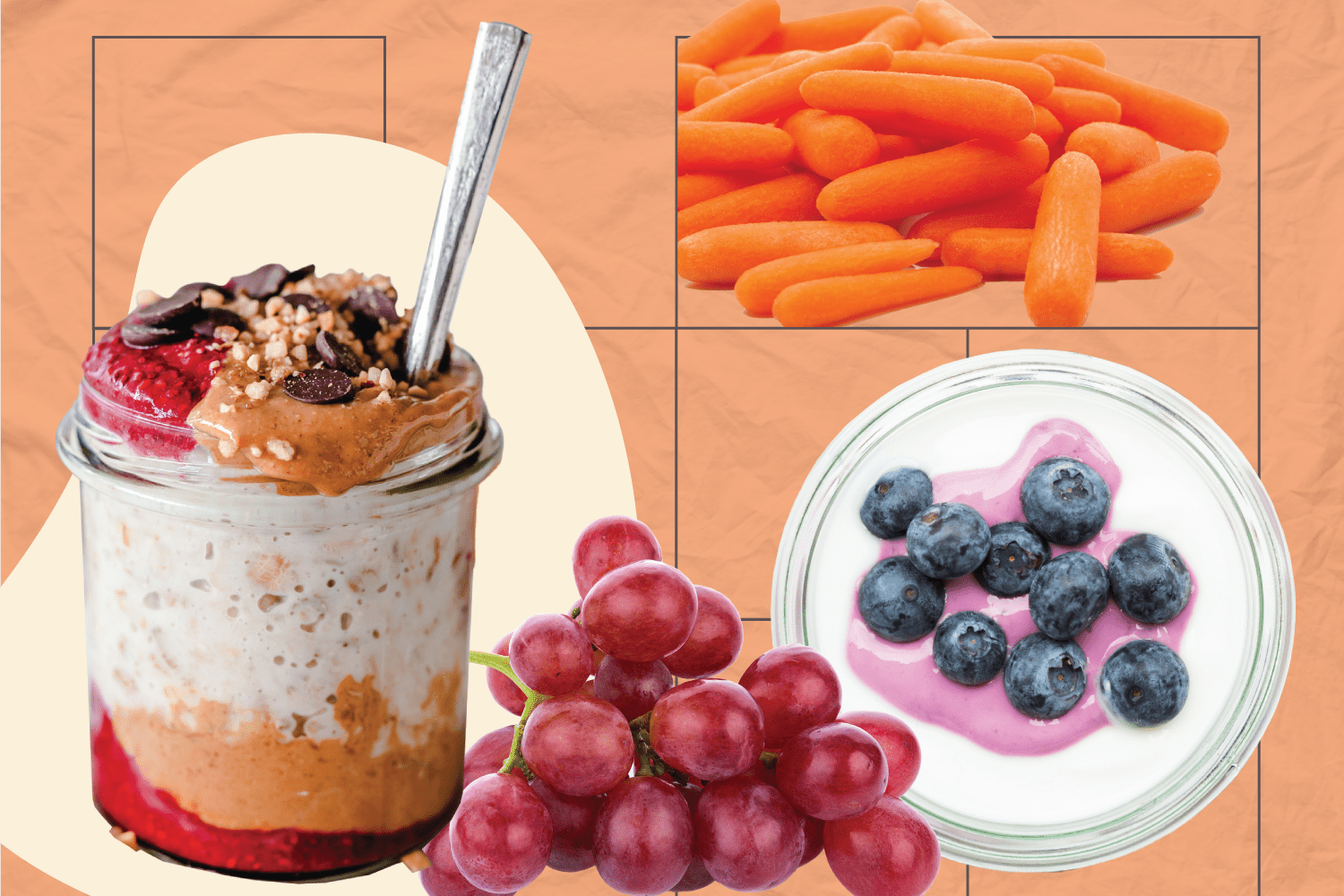 Meal prepping is a fantastic strategy for weight loss success. Planning and preparing your meals in advance helps you make healthier choices, save time, and stay on track with your dietary goals. Here are 10 delicious and healthy meal prep ideas that will support your weight loss journey:
What is meal planning?
The technique of meal prepping involves planning and preparing some or all of your meals ahead of time to regulate calories and nutrition to satisfy specific dietary demands.
Making your lunch the night before, preparing in large batches, or pre-cooking everything and portioning it out for the week are all examples of how to do this. And it is frequently carried out to enhance general nutrient intake, reduce calories, build muscle, support workouts, etc.
Meal-Prep Advantages
The advantages of meal planning range from decreased costs and time commitments to lowered stress levels and more successful dieting. One of the best methods to ensure your success is to control your diet and the things you consume.
Having a plan and food on hand will save you from making bad decisions out of hunger when they come and can reduce the amount of dining out, thus saving you money. And given that studies keep showing that meal planning is linked to better nutrition and more weight reduction, it is unquestionably something you should think about if you're attempting to get in shape.
Grilled Chicken with Roasted Vegetables
Grill a batch of skinless chicken breasts seasoned with herbs and spices. Pair it with a variety of roasted vegetables such as broccoli, cauliflower, and bell peppers. Divide the chicken and vegetables into individual containers for a balanced and nutritious meal.
Quinoa Salad with Mixed Veggies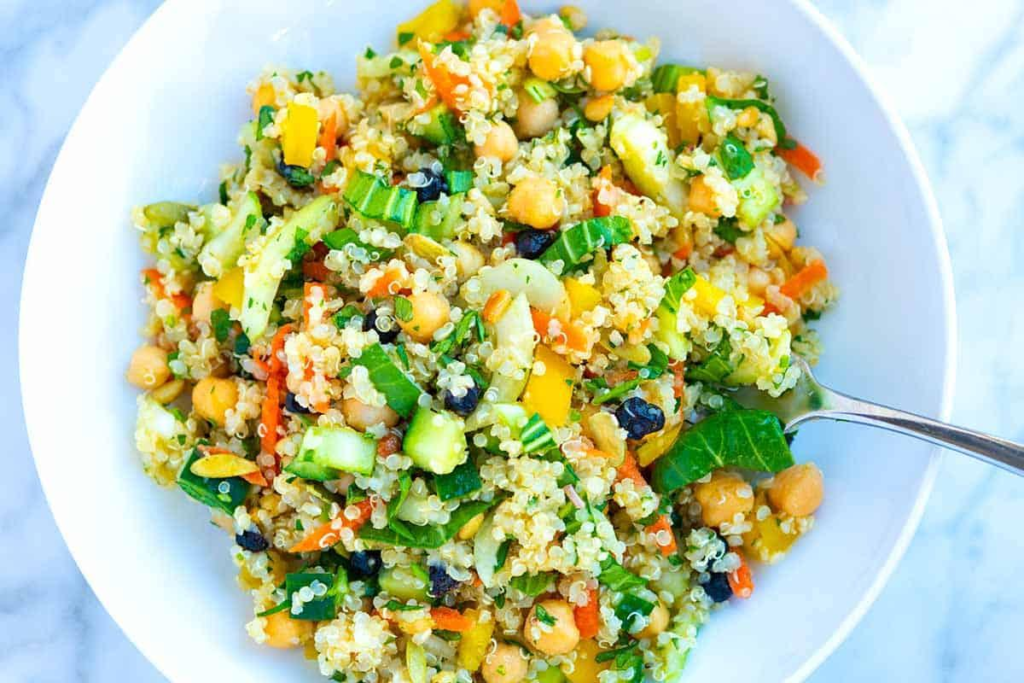 Cook a batch of quinoa and let it cool. Toss it with an assortment of colorful vegetables like cherry tomatoes, cucumbers, red onions, and shredded carrots. Drizzle with a light vinaigrette made from olive oil, lemon juice, and herbs. This refreshing salad can be enjoyed cold throughout the week.
Baked Salmon with Sweet Potato and Asparagus
Season salmon fillets with lemon juice, garlic, and dill, and bake them in the oven. Meanwhile, roast sweet potato cubes and asparagus spears with a sprinkle of salt and pepper. Pack each meal prep container with a salmon fillet, a portion of sweet potato, and a handful of asparagus for a protein-packed and satisfying meal.
Turkey Meatballs with Zucchini Noodles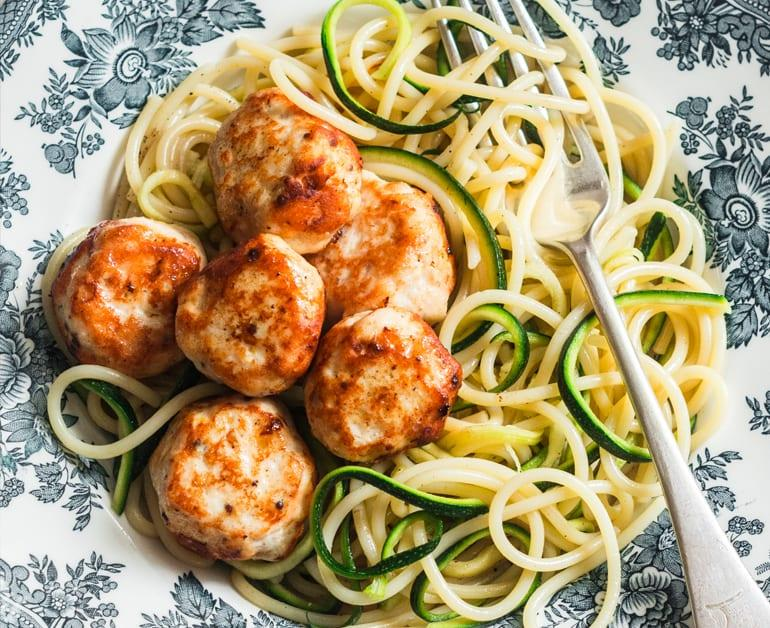 Prepare lean turkey meatballs using ground turkey, whole wheat breadcrumbs, and herbs. Bake them in the oven until cooked through. Spiralize zucchini into noodles and lightly sauté them in olive oil. Top the zucchini noodles with the turkey meatballs and a low-sugar marinara sauce for a healthy twist on a classic dish.
Veggie Stir-Fry with Brown Rice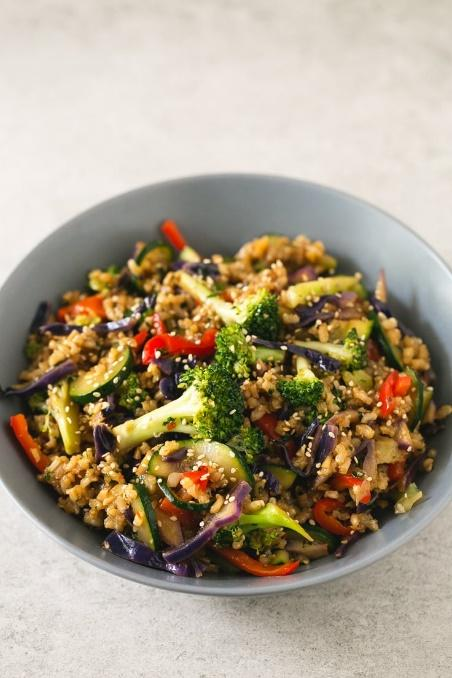 Sauté a medley of colorful vegetables like bell peppers, snap peas, carrots, and mushrooms in a light soy sauce or stir-fry sauce. Cook a batch of brown rice to serve as the base. Portion the stir-fried vegetables and rice into containers for a fiber-rich and satisfying meal.
Lentil Soup with Whole Grain Bread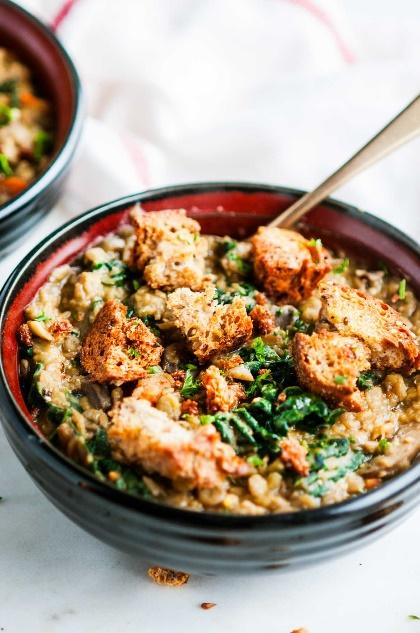 Prepare a hearty lentil soup using vegetable broth, lentils, onions, carrots, and celery. Season it with herbs and spices for added flavor. Pair the soup with a slice of whole-grain bread for a nourishing and filling meal that's perfect for colder days.
Greek Chicken Salad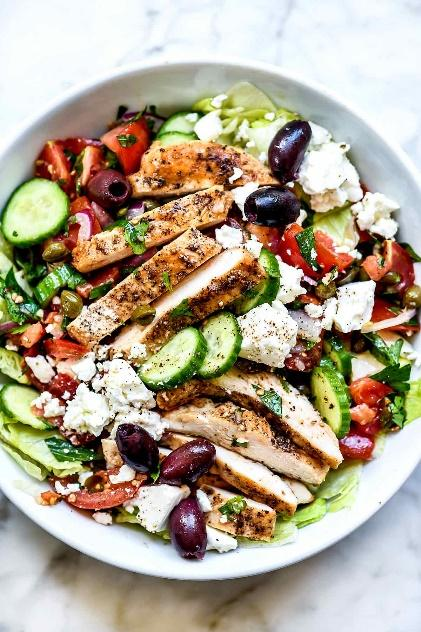 Grill or bake chicken breast and slice it into strips. Combine it with a mix of fresh greens, cherry tomatoes, cucumbers, red onions, and feta cheese. Pack the salad into individual containers and drizzle with a homemade Greek dressing made from olive oil, lemon juice, garlic, and herbs. This flavorful salad is a complete and satisfying meal option.
Shrimp and Vegetable Stir-Fry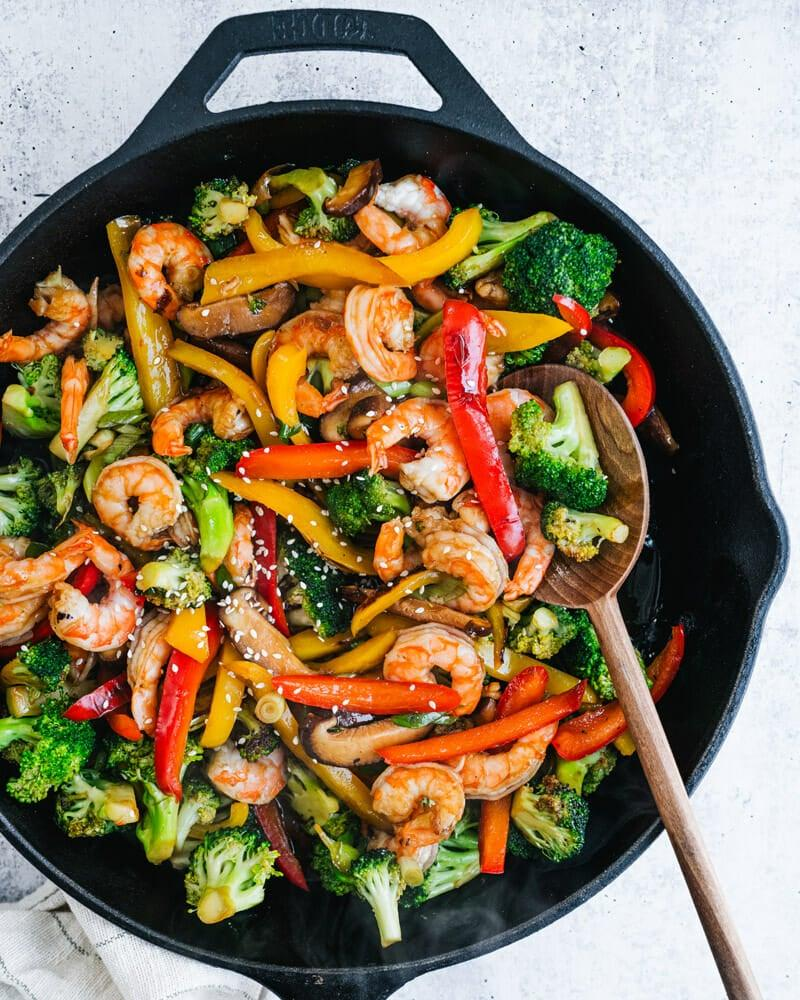 Sauté shrimp with garlic, ginger, and your choice of vegetables such as broccoli, snow peas, and bell peppers. Add a low-sodium stir-fry sauce for extra flavor. Divide the shrimp and vegetable stir-fry into meal prep containers and pair it with a side of brown rice or cauliflower rice.
Mexican Quinoa Bowl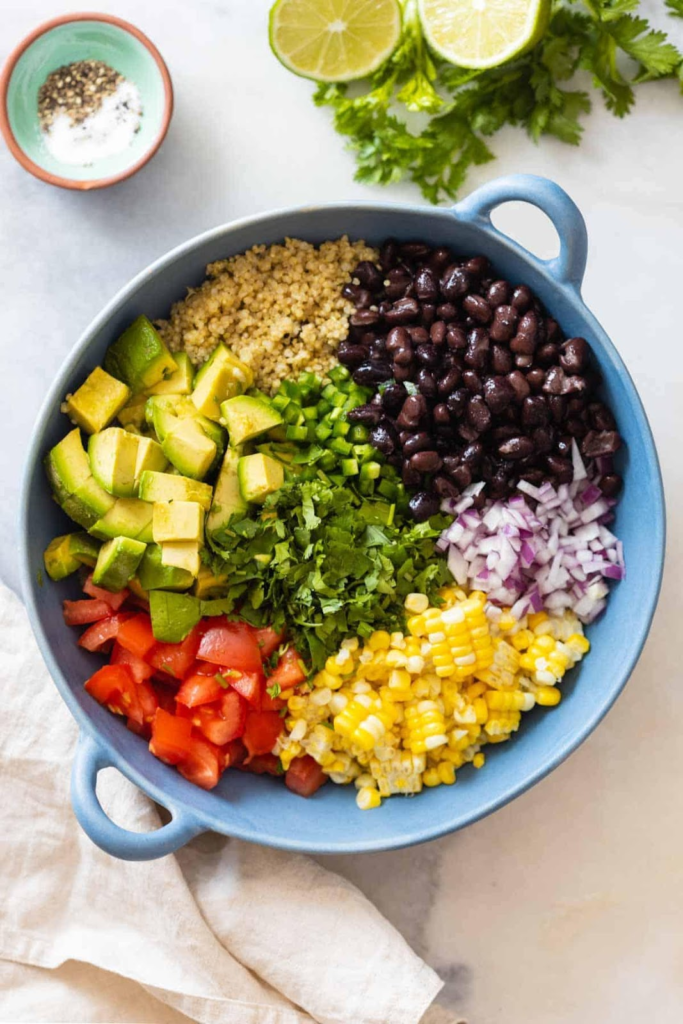 Cook quinoa according to package instructions and let it cool. Combine it with black beans, corn, diced tomatoes, avocado, and lime juice. Sprinkle with cilantro and a dash of cumin for a Mexican-inspired quinoa bowl that's packed with protein and fiber.
Egg Muffins with Vegetables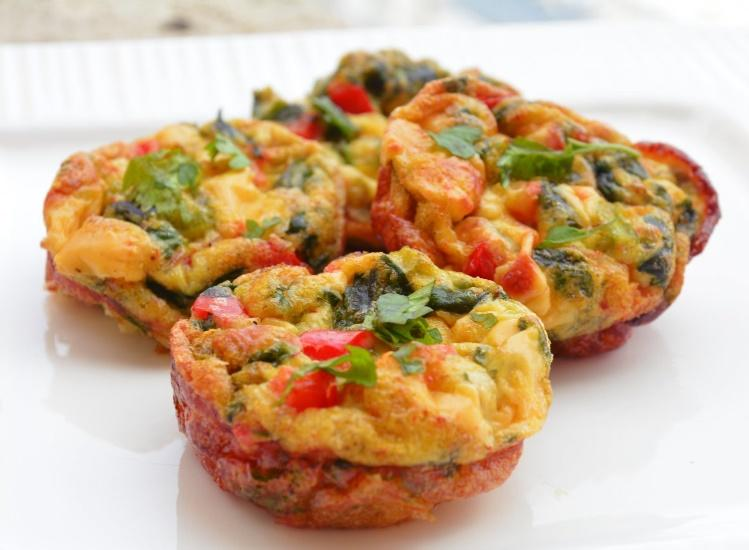 Whisk eggs with a splash of milk, and add chopped vegetables such as spinach, bell peppers, and onions. Pour the mixture into greased muffin tins and bake until set. These egg muffins can be refrigerated and enjoyed as a quick and protein-rich breakfast or snack option.
Remember to divide your meal preps into individual containers and refrigerate them for easy grab-and-go meals throughout the week. Experiment with different flavors, spices, and ingredients to keep your meals exciting and enjoyable. With these delicious and healthy meal prep ideas, you'll be well-equipped to achieve your weight loss goals while savoring every bite.